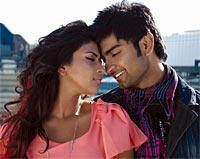 Pavithra Srinivasan feels Muppozhudum Un Karpanaigal's music has nothing new to offer.
R S Infotainment Productions' latest venture,
Muppozhudum Un Karpanaigal
, stars Adharva and Amala Paul. It is directed by Elred Kumar, while G V Prakash has composed the music and Thamarai has penned the lyrics. Here's what the album has to offer:
Aalaap Raju, Megha and G V Prakash kick off
Mazhai Pozhiyum
pretty enthusiastically. It's a modern, romantic number, and an oft-heard one.
Oh Sunandha
is a peppy romantic number, rendered by Raman Mahadevan, Caroline and Megha. The guitar interlude, carrying faint Latino overtones, is interesting but it's only at the end of the
charanam
, when you sink into the lyrics, that it really begins to appeal. Despite the familiar melody, it has its merits.
Interestingly, the lyrics of
Oru Murai
actually begin with a
thogaiyara
, a sort of prelude, while the song comes with an interestingly different format sung by G V Prakash, Blaaze and Andrea. The number itself delivers nothing very new. There's a remix version as
well.
Mohammed Irfan's
Yaar Aval Yaro
seems like it's straight from the '60s, set in a modern framework. The angst-ridden tone and beautiful lyrics actually do work, especially towards the end. A very appealing number. 
Sokku Podi
, sung by Baba Sehgal and Shruti Hassan, seems to be synthesised music infused with the rap version of a
kuthu
song, for this particular album, as the female chorus croons,
"Hold me tight, take me now."
The rhythm is the best part of this number.
With its gentle humming and notes,
Kangal Neeyae
, sung by Sithara, is attractive with its clean, strong vocal setting. The flute interlude is appealing as well, almost Irish in its haunting melody. The
charanam
does meander a bit, trying to find its place, but the classical touches save it. And Thamarai's words, as she describes a mother's love for her son, are touching.
G V Prakash has tried to come up with something different. Except for
Yaar Aval Yaaro
and
Kangal Neeyae
, the rest pretty much fall into familiar territory.
Rediff Rating: