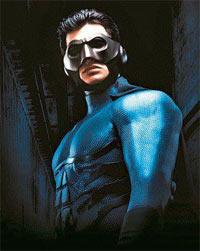 Pavithra Srinivasan says Mugamoodi  has an interesting mix of songs.
Mysskin is back with
Mugamoodi
– The Superhero Within, with  Jiiva, playing the lead. With K tuning the music after a much-appreciated
Yuddham Sei
, and Karky penning the lyrics, here's a listen at the album.
Mugamoodi
's first number starts out with a conversation, mellow and soft, between friends.
Vaayamoodi Summa Iruda
(both the strings and guitar rendition) has the talented Aalaap Raju's voice flitting like a gentle whisper through the romantic tune which alternates between mild anguish and contentment.
Karky's verses add some piquancy to the situation. It does make for a pleasant listen.
Lullaby For Loss
, the theme, stays sorrowful and soothing, with some chorus and a beat that steadily escalates towards the final moments, almost like a march.
Kudi Vaazthu
or
Bar Anthem
, sung and penned by Mysskin, is a paean sung to that permanent fixture in every Tamil film these days: the bar.
Mysskin proves to be surprisingly at ease with singing but the best part of the song is the exquisite violin rendering of a section of the classic
Annakkili
number--a tribute to Ilaiyaraja, in fact.
It's truly ominous the way
Blue Panther On The Prowl
kick-starts but soon it morphs into swift-paced
synthesised music, ending with more ominous notes. Short and intriguing.
In
Maayavi
Chinmayi's voice soars effortlessly, and this number reverberates with the anguish of someone who has lost her beloved. Not exactly new and yet it captures your attention. The flute version of the same song, however, is even more effective. Again, this one is also a perfect tribute to Ilaiyaraja's compositions.
The intriguingly titled
Don't Drive Your Car With This Music On
sounds a little like the James Bond theme and delivers what seems like an action-packed sequence with swift beats. It doesn't tug at any heart-strings, though.
Cape Of Good Hope
seems charged with energy, even if it does build up in small doses.
Hell, Heaven And The Ladder
is far more effective in bringing a sense of suspense.
Come, Let's Fall In Love
epitomises Ilaiyaraja's '90s compositions, and is the theme-version of
Vayamoodi Summa Iruda
, a pleasant listening experience.
With his second outing, K proves himself to be a competent musician, effectively rendering emotions into music.
By and large,
Mugamoodi
's numbers grab your attention and carry you with them.
Rediff Rating: