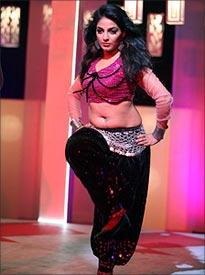 Paresh C Palicha feels Malayalam film Matinee tackles a dark subject with much conviction.

Matinee
, the new Malayalam film helmed by débutante Aneesh Upasana tries to tell the story of some people who end up in the dark corners of glamour world.
The plot of this film revolves around two people who come from different backgrounds but are united by fate.
Najeeb (Maqbool Salmaan) is a youngster from an orthodox background who wishes to be a film star while Savithri (Mythili) is a motherless girl from an economically backward family who lands up in the film industry to escape her abusive father (Sasi Kalinga).
The duo get a chance to be the lead pair in a film that appears to be an ordinary love story but turns out to be a sleaze-fest when it releases.
The pair, subsequently, is ostracised from society.
The film is set in the mid and late 1990s (without it being specifically mentioned), when most theatres in Kerala survived by exhibiting low-budget soft porn, and this industry
had its own star system in place.
The script by Anil Narayanan does not dwell much on the social reality of that era but focuses on the psychological toll it takes on the lead pair.
As for the story, Savithri seems to have adjusted to her new reality and continues to do films with 'bits' for money, while Najeeb struggles to get work in mainstream films. Savithri who has rechristened herself as Nisha for the screen moves around in a Burqa. She supports Najeeb by providing him shelter in her apartment.
Thankfully, there is no overt effort to titillate the viewer.
Maqbool's 'the guy next door' look in the film lend authencity to the character he plays.
Mythili, on her part, does bring awkwardness that seems natural to her when she has to be loud. On the whole both the lead characters ably carry the film forward.
Matinee
shows that there are many interesting avenues to explore if you want to tell the story of the film industry other than lampooning the superstars, Sreenivasan style.
Rediff Rating: