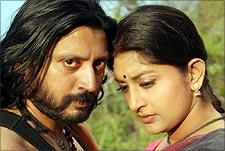 Pavithra Srinivasan feels Mambattiyaan fails due;to itslacklustre screenplay and trite dialogues
.
You know just how a movie is going to fare when its comedian and dancing-girl sidekick receive more applause than the hero himself. That's pretty much the case with Lakshmi Movies'
Mambattiyaan
, a remake of the earlier version with Thiagarajan. This time round, the father has decided to take the reins, while his son makes his larger-than-life presence felt in the title role.
As a story,
Mambattiyaan
is not without its attractions the tale of an outlaw who rebels against the local bigwigs, takes to the hills, helps his people and attains a cult-hero status, is undoubtedly appealing. There have been many such films before, but when you watch this re-worked version, you see glimpses of how well it can be done.
The story is simplicity itself. In the hill village of Malaiyur toils a simple labourer couple whose lives are destroyed by the landlord (Kota Sreenivasa Rao).
Their eldest son, Mambattiyaan (wearing a necklace with a beautifully carved seal almost as big as a dinner-plate) duly shouts, shrieks, yells and takes revenge. He also, then, prudently takes to the nearby hills and begins life as an outlaw.
In due course, he meets the love of his life Kannatha (Meera Jasmine), who pops in and out of the story as the
director pleases.
Meantime, nemesis arrives in the form of IG Ranjith (Prakashraj), who vows to catch Mambattiyaan dead or alive.
There are sundry other characters--the Chinna Pannai (Vadivelu), and Mambattiyaan's own cohorts, and the local medicine-woman (Kalairani), among others.
Mambattiyaan is, of course, the supreme hero. Such is his image that he can do no evil but his life is one of intense loneliness with the threat of being caught at any time.
Prashanth has an enviable physique and makes sure you notice it. He desperately tries to emote, but there's only so much his facial muscles can do, and the theatre erupts with laughter when he tries. Mostly, he flexes his muscles, screams and fights right to the end.
Meera Jasmine, with so much more talent than this film lets you believe, is absolutely wasted. Vadivelu is the star of the show and Mumaith Khan, surprisingly, is not bad.
Thaman's music fits the bill with its thumping beats, and the Ilaiyaraja re-mix is nice as well. Shaji Kumar's camera-work is great, and showcases the hills and vale with startling clarity; it's one of the best points of the film. Don Max's editing could have been better.
The biggest flaw, though, is director Thiagarajan's lacklustre screenplay, trite dialogues, and situations in which logic goes for a toss.
Rediff Rating
: