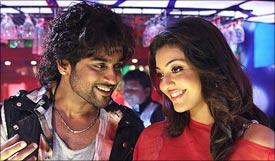 Pavithra
Srinivasan says Maattrraan is about conjoined twins, but the story is never centred on them.
Director K V Anand has excelled, so far, in combining
masala
ingredients with a fairly serious plot. This time, too, he takes up a serious subject: genetic engineering and one megalomaniac's plan to re-write human DNA and destroy countless lives in the process.
And of course, AGS Entertainment's
Maattrraan
(all its variations in spelling aside) is about how the hero unravels the plot and brings justice to all. There's also the interesting angle that it's not just one hero but two -- the much anticipated conjoined twins.
Maattrraan
certainly starts off in style. The wife of scientist Ramachandran (Sachin Khedeker) delivers conjoined twins, and much against medical advice, swears to raise them both. A difficult task, as only one of them has a heart. The twins' childhood and adolescence is shown in endearing fashion, even as their father tries his very best to succeed in the world of science, with little result.
After a great many failures and heartbreak, however, he does establish the Energion Empire, a health drink that's supposed to boost strength and energy among children.
His children are now grown up: Akilan and Vimalan (Surya), startlingly alike in looks, but completely different in temperament.
These are some of the best moments of the movie: one is mild-mannered and soft, the other is violent and checks out girls; one drinks fruit juice, the other downs vodka; one appreciates Khalil Gibran's poetry, the other doesn't even know who Bharathiyar is.
Regretfully, their emotional bond and physical ties are shown in tantalisingly short strips. You're given just a glance before the movie pushes on inexorably towards what it presents as the more important storyline.
This begins with Energion's success throughout India. Ramachandran is literally at the top of the world and wealth surrounds his family, but disaster strikes soon. Industrial espionage rears its ugly head, and a Russian journalist gets involved in the mix. Murder is only the next step, and the twins are embroiled in it, not to mention Vimalan's girlfriend, Anjali (Kajal Agarwal).
The first half is intriguing with its plot-twists, red-herrings and the barely-shown
bond of the twins. But even here, the suspense is gone, because you're shown who the culprit is.
You expect fireworks in the second half, but this is where everything goes downhill. Despite the rich locations, magnificent sets, S Sounder Rajan's sleek cinematography, the screenplay flounders in a morass of monotony.
The players may be European and Anjali, in a nice departure from Tamil cinema tradition, might be a Russian interpreter, but there's absolutely no suspense in the so-called twist; neither do events bring you to the edge of your seat.
Every move is predictable, the songs hinder the pace and before long, you're wondering when the movie will end.
Suriya valiantly tries to carry the movie on his capable shoulders but he gets no help, though the part of conjoined twins could have provided scope to show off his talent. Except for one scene, all he does is fight, wear designer clothes and spout platitudes. The screenplay drags him down considerably.
Kajal Agarwal is her usual pretty self. She has more to do here than the usual roles she plays, but for all that, makes no impact except during the songs. Sachin Khedeker is impressive, while sundry characters like Ajay Rathnam are wasted.
Harris Jeyaraj's songs all sound like you've heard them before.
Rettai Kadhirae
and a romantic number catch your attention with their picturisation, but that's it.
Antony has tried his best to make the editing snappy, but doesn't quite succeed. The SFX team has done a great job.
Suba's dialogues catch your attention in the first half but even then, the confrontations between the brothers lacks spice.
It looks like the director wanted to pander to commercial tastes and an intelligent screenplay but stumbled in the middle. The confidence evident in his previous ventures is sorely lacking here, and the whole conjoined twins plot has largely been wasted. Their relationship is very loosely explored, and the movie is not centred on them. In fact, it would have served as well had they just been siblings.
Maattrraan
has a great premise, great characters and actors who could have pulled off a complicated story. Sadly, the movie never capitalises on these strengths.
Rediff Rating: