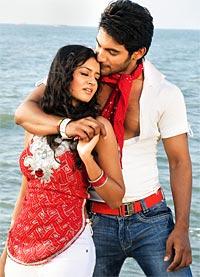 Lovely is a decent entertainer with all the commercial staples, writes Radhika Rajamani.

Director Jaya B's Telugu film
Lovely
doesn't have an A-list star cast but is a decent entertainer with all the commercial staples -- action, songs, romance and foreign locales. The film stars Aadi, who is one film old, and debutante Shanvi.  
Maybe because she's a woman, the director has kept vulgarity and double entendres out. There are no comedians as such, but there is humour in the script.
Lavanya or Lovely (Shanvi) is the daughter of Mangalampalli Maharadhi (Dr Rajendra Prasad) and the apple of his eye.
Lovely's friend Lalli (Chinmayi Ghatrazu) falls for Kittu (Vennela Kishore) online through chatting. But, when the time comes for them to meet, each sends a friend, Akash (Aadi) and Lovely. The two meet and over time they fall in love.
Akash seems to be living off money he makes from fooling Bunk Babu (Ahuti Prasad). When Lovely tells her father about Akash, he disapproves, and begins to follow them around. Lovely is unaware of this but Akash knows. Is papa finally convinced that Akash  is the right son-in-law?
The
story is quite straightforward and not novel. Agreed, the father is worried about his daughter, but the lengths he goes to, particularly in the second half towards the climax, is absurd. 
The first half of the film is breezy but the second half is overloaded with sentiment and emotion. The track with Lali and Kittu enlivens proceedings a bit.
Given the nature of the film, the action bits seem forced; they seem to be there only to showcase the hero's skills.
Anup Reubens's music is in sync with the film. Some of the songs are good. The choreography, too, particularly of the songs shot in Turkey, is well done. Other technical aspects too are satisfactory.
Aadi is very earnest in his portrayal. He gets the opportunity to sing, fight, dance and act, which he does pretty well. Newcomer Shanvi looks pretty and makes an effort to act.
Chinmayi is natural and lively and adds vivacity. Kishore is in his element, while Dr Rajendra Prasad has brought out the different shades in the many characters he plays.
Jaya B has churned out a decent family entertainer.
Rediff Rating: