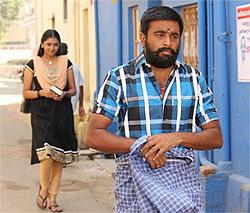 S Saraswathi says The performances by the cast in Kutti Puli and the surprise twist that will definitely appeal to the masses.

After the success of Sundarapandian, a huge box-office hit that successfully completed a 100-day run recently, expectations are high for actor Sasikumar's latest film Kutti Puli, directed by debutant director Muthaiah.

The film is produced by Muruganantham's Village Theatres, and Udhayanidhi Stalin's Red Giant Movies has acquired the distribution rights.

Mahesh Muthuswami, former assistant of the legendary cinematographer P C Sreeram, is handling the camera. The film is edited by Gopi Krishna, music by Ghibran and stunts by Dileep Subbarayan.

Actor Sasikumar, who won the hearts of Tamil audiences with his films on love and friendship such as Subramaniapuram and Nadodigal is playing the lead role with Lakshmi Menon, his co-star of Sundarapandian. Saranya Ponvannan plays the role of Sasikumar's mother. Rama Prabha, DMJ Rajashiman and others appear in supporting roles.

Kutti Puli is an action cum family drama centred on the town of Srivilliputtur, which is rife with tension and conflicts among the different castes residing here, frequently erupting into violence and death.

Deivanai (Saranya Ponvannan), a widow, lost her husband at a very young age in one such incident. Deeply traumatised by his death, she is determined to shield her only son Puli (Sasikumar) from any violence and unnecessary vendetta.

Unfortunately, he turns out to be just like his father. Though basically good at heart, he repeatedly gets into unnecessary arguments and fights, antagonising the people around him and causing his mother a lot of grief.

Another bone of contention between the mother and son is Puli's determination to remain unmarried. Growing up, Puli has witnessed his mother's struggle as a young single parent. He believes that with the number of enemies he has made over the years, he is also destined to die a violent death and feels that no woman should suffer for his sins. And so he thwarts all her desperate attempts to find him a bride.

Meanwhile, Bharathy (Lakshmi Menon) moves into their locality and being young and pretty, she is soon being courted by hordes of men, both young and old. Predictably, she falls for the one man who shows absolutely no interest in her.

Murthy (DMJ Rajashiman), the local goon and owner of many liquor shops throughout the town, is furious with Puli for crossing and provoking him on a number of occasions and wants him dead.

So, does the film advocate that violence begets more violence or does it preach that love conquers all? Watch the film to find out.

The background score by music composer Ghibran beautifully brings out the essence and mood of the film, be it in the emotional scenes, the action sequences or the tender moments of love. Vairamuthu has penned the lyrics for two songs and though the songs have not created any huge impact, they are lively and have catchy tunes.

Director Muthaiah has managed to extract some great performances from all his cast. The seasoned and dedicated Saranya Ponvannan is a natural and effortlessly portrays the role of a grieving widow and protective mother.

Sasikumar is at his best yet again, captivating the audience in every scene with his characteristic wit, humour and charm. Though relatively a newcomer, young Lakshmi Menon, who just celebrated her 17th birthday already has two hits, Sundarapandian and Kumki to her credit. And her subtle understated performance in Kutti Puli is also sure to be appreciated.

Love, friendship and emotion play a big role in all Sasikumar's films and Kutti Puli is no exception. The devotion of an only child to his widowed mother, the love of a mother who would go to any lengths to protect her son, the friend who is not just a drinking buddy, the tender love between the not-so-conventional lovers, the comic relief provided by many who appear at frequent intervals and, of course, lots and lots of action make this film a real entertainer that will definitely appeal to the masses.


Rediff Rating: