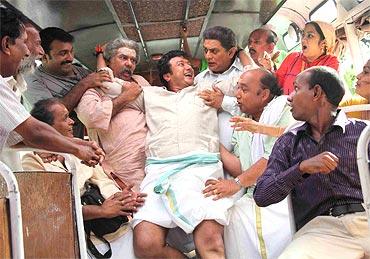 Paresh C Palicha reviews the Malayalam movie, Kudumbasree Travels. Post YOUR reviews here!

The trademark of a Jayaram film is that it tries to please the family audience with a light storyline and a dash of humour. The formula hardly fails.

His latest film Kudumbasree Travels directed by newcomer Kiran follows the same pattern. Here he is an exponent of Chakkyar Koothu with a clean shaven look for the first time in his career.

Arvindan (Jayaram) is a rural simpleton untouched by modernity. He is such a novice that he does not even know to use cell phone. Events heat up when his marriage is fixed with Aswathi (Bhavana), a scholar in ancient performing arts from Kochi. His uncle played by Jagathy Sreekumar is against this union as he wishes that Arvindan marries his daughter because his astrologer Nattiar (Maniyanpilla Raju) has prophesied that his financial difficulties will be over if his daughter marries Arvindan. So, they both always scheme to block this marriage. On the other side Aswathi's cousin who wishes to marry her is also always scheming to block their marriage.

Now, you may be wondering what significance the title has with the movie? Kudumbasree Travels is the name of the bus the groom's party hires to reach Kochi for the wedding and virtually the whole village fits into bus including a couple of goats.

As expected from a wedding film, Kudumbasree Travels is filled with actors vying for attention. However none of them are successful. Even veteran performers like Mamookoya and Kalapana are under-utilised.

The story credited to the director has a terror angle as well as a typical 'free for all' climax as seen in many comedy films. But a solid core is missing from this tale. It feels like the intention behind this endeavour was not to give the viewer any respite from laughing. The only new thing about the movie is Jayaram's look.
All in all, Kudumbasree Travels is more like a extended comic skit.
Rediff Rating: