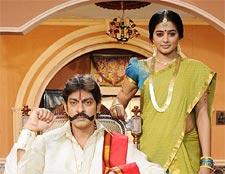 Radhika Rajamani says that there is hardly anything worth talking about Telugu film, Kshetram.

The reincarnation theme has caught the fancy of audiences after the smashing success of Arundhati and Magadheera.

However, not all filmmakers can make reincarnation sagas in an interesting and entertaining way.

Director T Venuogopal takes up the theme in Kshetram but fails miserably. The treatment is shabby and production values are poor.

The film opens with the history of a village called Kshetram. An idol of Lakshminarasimha from the temple is hidden in a forest in order to save it from invaders. Generations of the Rayulu family have struggled to reinstate the idol in the temple but were unable to do so.

Veera Narasimharayulu (Jagapathi Babu) and Lakshmi (Priyamani) die in the attempt to restore the idol.

The clock moves forward.
Chakri (Shaam) is in love with Sohani Aggarwal (Priyamani) and they get married with the consent of their parents. On the second day after the marriage, Sohani starts behaving differently. She kills her father-in-law in a vengeful act, and the question is: is Sohani possessed by a spirit? If so, whose is it and what does it want?

Kshetram is quite a lot like Arundhati barring the religious factor. Unlike Arundhati, though, there's no logic to the events that occur. It has a rural backdrop and has all the cliched rural elements -- feudalism, stranglehold of religion, superstitious beliefs, inter-family rivalry...
In essence, Kshetram is the conquest of good over evil. Yet it seems regressive and out of sync especially for an urban audience.

Neither the story nor the screenplay is convincing. A raunchy duet between Priyamani and Jagapathi Babu has been introduced obviously to appease the frontbenchers, though it's totally out of place and context!

The lead pair, Jagapathi Babu and Priyamani does a reasonable job but can't rise above the mundane script. Though this was touted as a heroine-centric film, one can't help wondering why an actress like Priyamani accepted the role.

Shaam also gives a decent performance. Kota Srinivasa Rao and others are just about okay.

The production values of this film are mediocre. Director Venugopal should have made a greater effort to make an original film rather than a bad copy of Arundhati.

Steer clear of Kshetram!
Rediff Rating: