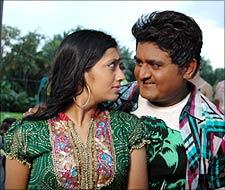 Shruti Indira Lakshminarayana reviews the Kannada film, Kal Manja.  Post YOUR reviews here!
Complete family entertainer is what most filmmakers assure you but there are very few that live up to the expectations. Kannada film Kal Manja that hit screens this Friday is one such entertainment package. And what else can one expect with Komal at the helm?

Komal Kumar (Manja) is an aspiring film writer. He keeps gate crashing film sets with the hope that some director or the other will approve his script. The script is based on the incidents that have taken place in his life. It is about how he is forced to distance himself from his employer's daughter (Indira) who has feelings for him. He is asked by her father to lie that he is in love with another woman. He is even made to write letters to this 'lover' to make his case more authentic. If only he knew that Vasumita, his imaginative girlfriend is as real as she can get and the fake address actually exists! What happens next?

We strongly recommend you watch the film to find out.

Kal Manja may be a remake of a hit Malayalam film, but Komal along with director Ramesh Prabhakaran has moulded it to suit the tastes of the Kannada audience. The climax is also different. The film is also a spoof on horror films. The climax where all major characters turn ghosts is a complete laugh riot. Its long duration is thus forgiven. Also the way the film brings out the attitude of cinema folks is both real and hilarious. 

What has also worked in Kal Manja's favour is the apt casting. From the actors who have played choreographers to famed director Guruprasad, who plays himself, the choices couldn't have been better. Guruprasad endears himself with his tensed and no-nonsense type director act. His dialogues stand out.
'Thriller' Manju who plays an action director in the film also does a good job. His "I hate love stories" dialogue makes you laugh out loud.

Dialogues most definitely are the film's strength. The ones where Komal keeps saying how he has watched latest Kannada films four-five times, but not in theatres and on TV are sure to strike a chord. His body language and sound effects add humour to each situation. Komal fights and dances in this film, but comedy still remains his strong point. However his Rajnikanth act pales in comparison with rest of his acting. Komal has even tried different getups in the film. A little toning up and Komal is all set for the big race.

Actresses Udayathara and Aishwarya Nag have significant roles too. Udayathara comes out with a decent performance. Songs by Emil are easy on the ears. One of his compositions goes Komal mastu Kamalu... and we gladly agree.
The film comes with a good story laced with humour. There are lots of twists and turns and this keeps you hooked through and through.
For two and a half hours of pure comedy, watch Kal Manja.     

Rediff Rating: