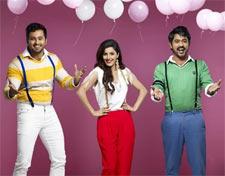 Paresh C Palicha says director B Unnikrishnan's I Love Me which has a young cast is tedious and boring.

It seems that director B Unnikrishnan is making an effort to join the 'new gen' bandwagon. I Love Me, his new film, has a young star cast led by Anoop Menon.

There are two other young actors, Unni Mukundan and Asif Ali. The plot and narrative technique too are meant to appeal to a younger audience.

Ram Mohan (Anoop Menon) is a billionaire settled in Bangkok who is aware that the wealth and pomp we are seeing now is just a bubble that can burst any moment. Actually he is in big trouble and has come up with a wicked plan to extricate himself.

He flies to Kochi where he hires Prem (Asif Ali), a small time crook, and pays him to bump someone off in Bangkok on the condition that the identity of the target will be revealed only later.

He also hires Savy (Unni Mukundan), a thug who beats up people for money, for the same purpose with the same condition.

When the two men land in Bangkok, Ram makes them stay together without letting them know the real purpose of their being there. He lets them enjoy the sights of Bangkok, providing them with a beautiful guide in the form of Isha Talwar.

Savy and Prem, who actually have contrasting personalities, develop a friendship even though they are wooing the same woman. And when Ram reveals the identity of their target, they are both shocked.

There are twists and turns as Ram's broader plan unfolds. The patience of the audience is severely tested at this point.

Anoop Menon has been made to look a little older, but his style of acting and dialogue delivery does not change much.

Asif Ali retains his happy-go-lucky persona and Unni Mukundan his puffed-up seriousness. It goes without saying that Isha Talwar remains just eye candy.
Unnikrishnan has directed some superstar blockbusters, but this experiment with youngsters is just passable.

Rediff Rating: