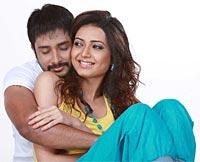 Shruti Indira Lakshminarayana says I'm Sorry Mathe Banni Preethsona's pace falters towards intermission. Post YOUR reviews here!
Director Ravindra's controversy ridden
I'm Sorry Mathe Banni Preethsona
has hit theatres today and what does the film have in store for you?
Shyam (Prem) falls for Chetana's (Karishma Tana) honesty and beauty at the very first sight. He is so sure that she is his perfect match that he traces her address, convinces both her parents and her and gets married. All this happens in lightening speed. And we are not complaining.
The newlywed couple is very content with their marital life until Shyam finds a mobile phone in a lift. Being the good man that he is, he decides to return the phone to its rightful owner and it is after that point that the story takes a turn. Following the encounter with the mobile owner, Shyam becomes suspicious of Chetana.
The film definitely comes with a different storyline and keeps the audience at the edge of their seats at several places. But nearing interval, the hit and miss game puts a break on the good pace and that the film has so far achieved.
What the film does not lack in though is the visuals. Ravindra makes his Mumbai association apparent in the way the film has been shot. Money has been generously spent and the efforts have paid off. Great attention has been paid to both the costumes and sets. Both the hero and heroine look stylish and hip. Bikinis make a brief appearance too.
The lead actors perform well. Karishma, a Hindi television actress popular for her comic timing, has in this film come out with an emotional act. She is as comfortable with her skin show as she is with playing a caring wife. Her's is the best performance.
Karishma, it may be recalled was upset with the director for downplaying her role but with so much skin show and screen presence, there's little doubt the she'll stay in the minds of viewers for some time to come. But for those still curious about the hot lip lock and Prem's nude scene, there is neither. Talk about gimmicks!
Prem makes a good comeback with the film. The role is tailor-made for the romantic hero.
Tabala Nani lands a significant role. Sanjana grabs a meaty role too, if only she had toned down her act! The presence of the less than a dozen starlets is also hardly felt that's if you spot them.
Gurprasad's dialogues -- romantic, philosophical and comic -- will draw whistles. Anup Silin's songs are a definite advantage. Ashok Kashyap handle's the camera well. 
 If you are a Prem fan and are bored of the run of the mill romantic stories, go find out for yourself.
Rediff Rating: