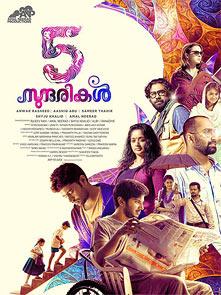 A compilation of five short films focusing on female protagonists and directed by young directors, 5 Sundarikal celebrates the centenary of Indian Cinema.

We are celebrating the centenary of Indian Cinema and five young Turks of Malayalam cinema led Amal Neerad (he is the producer too) have made an anthology of five short films titled 5 Sundarikal, focusing on female protagonists. The five films play on different themes and emotions, and on the whole it is an interesting anthology.

The first film, Sethulakshmi, marks the directorial début of cinematographer Shyju Khalid. It's the story of a small girl played by Anikha whose hobby is collecting the pictures of newly married couples from newspapers.

Her life takes a dreadful turn when a schoolmate (Chethan) suggests that they have a similar photograph taken of themselves. This innocent wish leads to a dreadful experience.

The film is based on a story by M Mukundan of the abuse of children, and is well handled by the director.

The next film, Esha, begins with an intensity that keeps us glued to our seats. Starring Isha Sharvani and Nivin Pauly, it is about two young people who meet on new year's day in a palace- like home, which it is shortly revealed belongs to the girl played by Isha, who got it for her dancing and acrobatic skills.

Sameer Thahir directs this light-hearted heist caper where two thieves try to outsmart each other. Written by Siddharth Bharathan, the film just has entertainment value. Which is fine, except that it does not fit in with the others.

Aashiq Abu's Gowri is about a couple, played by Kavya Madhavan and Biju Menon, in an inter-religious marriage. They have been together
for three years, but the marriage was against the wishes of their families. They live in a secluded hill station. A visit by their friends (Rimi Tomi and Tini Tom) on the eve of their wedding anniversary brings subtle change in the relationship of Gowri and Jo.
Kullante Bharya
directed by Amal Neerad himself is the most elaborate and comprehensive story of the anthology. Dulquer Salmaan plays a professional photographer who is temporarily disabled and is wheelchair bound. So he spends his time observing the lives of his neighbours from his window. We hear the stories of his neighbours in his voice-over.
The air is heavy with anticipation as one of the tenants has left and the flat will be occupied by a new family. To everyone's surprise, the new tenants are a dwarf and a tall lady.
The neighbours start speculating on the relationship between this odd couple. Are they husband and wife or brother and sister? After a while, weird rumours begin to spread about them, yet they continue to live their life oblivious of their surroundings. The climax of this story will tug at your heart strings and leave the more sensitive moist-eyed.
Anwar Rasheed comes up with an intriguing tale in the final film titled
Aami
. It is about a man who has turned a new leaf after getting married to a naïve and innocent girl who shows complete faith in him.
Bouts of anger, violence, and old relationships try to lure him back to that world when he is away from her. Fahadh Faasil plays the man brilliantly, bringing out the frustration of being faithful, the difficulty of remaining good when being bad seems to be easy…
Yes,
5 Sundarikal
is a mixed bag that makes you experience a whole gamut of emotions.
Rediff Rating: