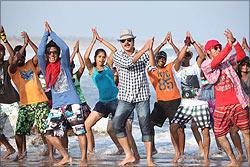 Paresh Palicha says Malayalam film Face 2 Face has a weak plot and depends too much on star power.

You can take away the police uniform but you cannot take away his police instinct. This is the message of V M Vinu's Malayalam film
Face 2 Face,
starring Mammootty.
The director, who made some big family entertainers in the last decade, gets into thriller mode with this film. Mammootty plays a suspended police officer, who will not curb his investigative instincts just because he is robbed of his uniform temporarily.
Balachandran (Mammootty), a Circle Inspector, has made a habit of being suspended from work because he has a stronger spine (by his own admission) than others of his ilk. He has made a mini fortune for himself by broking real estate deals and investing in stock markets.
A divorcee with a weakness for drink and rummy, he gets involved with the investigation of the gruesome killing of the progeny of a political bigwig. His investigation runs parallel to the police investigation, done by SP Ramdas (Siddique). He gets the video recorded statements of the witnesses with the help of CI Latheef (Kalabhavan Mani),
who is assisting the SP. He discusses the autopsy report with Dr Uma (Roma), who was among the team of doctors who conducted the post mortem.
And above all, he is shown sitting in front of his huge desktop computer, moving the mouse or randomly typing something in a haste. By the end of the first half, we are sure that he has reached his own conclusion without forgetting that he was one of the suspects.
In the second half, everything that can go haywire goes haywire and the identity of the real culprit(s) leaves us rather cold and numb instead of shocking us out of our seats.
The main purpose of this film is to show that Mammootty is still a rage with the young crowd as he is shown partying and picnicking. His getup gives us a sense of deja vu, taking us back to one of his best police roles of Perumal in
August 1
(1988) with him wearing body hugging shirts and stylish glares.
But none of this can salvage the film because of its weak plot and over-dependence on star power.
Rediff Ratings: