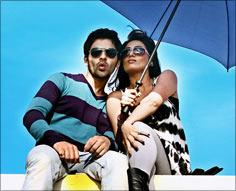 Srikanth Srinivasa says Cyber Yugadol Nava... could have been more light- hearted rather than being preachy.
Cyber Yugadol Nava Yuva Madhura Prema Kavyam,
the Kannada film with a long title, has generated some curiosity with its innovative ad campaign, crossword puzzle and marketing blitzkrieg.
The film, directed by debutant Madhuchandra, was billed as a light-hearted movie for youngsters but has turned out to be quite a serious one that tries to convey a lot of messages.
Although director Madhuchandra's attempt is laudable and is a good beginning, the film takes a preachy turn towards the second half. There is some amount of freshness in the script and dialogues but the movie is too long with too many sequences testing our patience in the second half.
The story is about a live-in couple, Jayantha (Gurunandan) and Sneha (Shwetha Srivatsav). They fight regularly over various issues and think they would be happier if they married. Despite stiff opposition from their respective families, they decide to live together.
Vishwa (Manojav), a wannabe politician and Sneha's brother, strongly opposes their relationship. His former lover turns out to be Jayantha's sister.
The two lovers decide to spend time with their in-laws
to know the families better. This leads to much trauma and some trying times.
Director Madhuchandra has tried to sanctify the concept of live-in relationships, which may be a little too futuristic for most Indians.
The second half is a bit slow as the director tries to convey that mutual understanding is necessary for any relationship to blossom. The first half is more enjoyable and if this spirit had been maintained throughout, it would have made for a light-hearted film that younger audiences would have enjoyed.
Gurunandan acquits himself well, but it is Shwetha's cool attitude that will go down well with audiences. Shwetha has acted in Kannada soaps and can be groomed to be a good actress.
Manojav shines in a cameo. Sharath Lohitaswa, Seetha Kote, Sundar, Veena Sundar and Achyuth Rao lend good support.
Vasu Dixit's music will go down well with young listeners. Manohar Joshi's camera work is excellent in the song picturisation and especially the number shot in Bali Islands, Indonesia. <
The film can be appreciated for the freshness of thought and the enthusiasm of the young team, but for nothing else.
Rediff Rating: