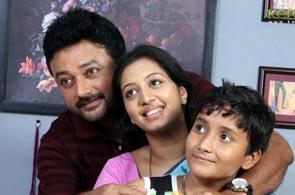 Paresh C Palicha says Bharya Athra Pora is loud and regressive but the family audiences might enjoy it.
Families are considered to be Jayaram's fan base and once in a while he comes up with a story that makes families flock to the theatres. His latest film Bharya Athra Pora is one such effort.
Directed by Akku Akbar and written by Gireesh Kumar (the same team that was behind Veruthe Oru Bharya around five years back, though this is not a sequel), it treads familiar terrain.
The film portrays the havoc alcoholism and addiction to social media can play in family life.
Sathyanathan (Jayaram) is a 40-year-old Malayalam teacher. He is good at his job, until dusk falls and he is out with his lowly friends drinking and making merry.
No amount of counselling by colleagues and good-hearted friends does any good. The situation goes from bad to worse and starts affecting his professional and personal life. Like the typically weak, Sathyanathan blames his wife Priya (Gopika) for his condition.
To get him to turn a new leaf in his life, he is put in charge of the school's newly opened computer lab. He finds a new addiction --social networking-- thus creating more problems.
It is difficult to digest some of the very contrived and exaggerated happenings on screen.
What jars are some of the opinions the film seems to advocate. Digs are made at 'new gen' films and the language used in them. People who air their opinions about films on websites are considered frauds and it is assumed that they write negative reviews even if they like a film.
Jayaram is in his element most of the time but looks lost in overly loud scenes. He suits the role with his salt and pepper hair and stubble. Gopika, who is making a comeback of sorts after her marriage, does not have to put much effort into enacting her role.
To sum up, Bharya Athra Pora is loud and regressive.
Rediff Rating: