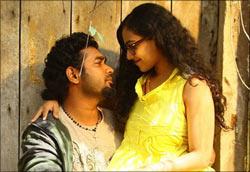 Paresh C Palicha says Bachelor Party is a complete letdown.
Enticing visuals and humour laced with innuendoes do not make a good film as
Bachelor Party,
directed by Amal Neerad, proves. It's high on testosterone with a largely male cast, male fashion and style, but low on credibility.
The plot revolves around a gang of friends leading a life of crime, deceit, and double crossing. The gang consisting of Toni (Asif Ali), Geevar (Indrajith), Benny (Rahman), Ayyappan (Kalabhavan Mani) and Fakeer (Vinayakan), all wear thick jackets that make them look like astronauts, denim pants and assorted accessories.
We are told that the youngest member of the gang, Toni, has been getting his friends into trouble from their childhood days. Now, he has split his friends into two groups; the first two should throw him in front of their gang lord boss to protect their own lives and the other two are committed to saving Toni.
A love story sneaks in somewhere between showing the gang smoking like chimneys or drowning in alcohol. A song heralds the beginning of the romance, which ends with the couple posing with a baby as if for a family photograph in a studio.
You need to be really alert and focused to get a hold on the proceedings
as the shots are taken as if for a music video, and dialogues and visuals overlap. The script, credited to Unni R and Santhosh Aechikkanam (the plot is said to be lifted from
Exiled
, a Hong Kong film released in 2006) ensures that every line spoken is raunchy or laced with low humour, which tend to fall flat.
For once, more attention is paid to the way the males look, so Rahman gets to sport an aged look with dyed hair and white beard. Kalabhavan Mani looks different without a wig and cat's eyes lenses. Asif Ali's ponytail and beard are intended to give him a punk look while Indrajith looks unkempt and sports dark glasses. Looks like they are competing in a 'spot the weirdest one' contest.
In contrast, the female lead, Nithya Menen, looks very ordinary and wears thick spectacles. So does Prithviraj who appears in a cameo just before the climax.
The two item numbers performed by Remya Nambeeshan and Padmapriya just add to the list of oddities in this film.
In the end, we are left with the feeling that director Amal Neerad has stretched his style of filmmaking
to unbearable and disappointing level
s in
Bachelor Party.
Rediff Rating: