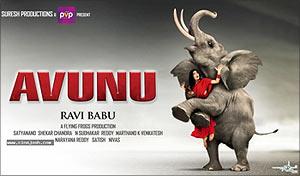 Ravi Babu comes up with a well made supernatural thriller in Telugu film Avunu, writes Radhika Rajamani

Avunu has a taut screenplay and excellent re-recording and sound effects which enhance the fear factor. The story is simple and not new, yet it is presented well and directed well.
Good acting by Poorna and Harshvardhan Rane make it worth watching. Mohini (Poorna) and Harsha (Harshvardhan Rane) settle in a gated community called Classic Homes in Gandipet. Just two houses are occupied in the complex. Soon after they settle in, strange things start happening.
Poorna notices that their neighbour's child Vicky seems to talk to his dead grandfather and also to a Captain Raju, owner of Harsha's house.
When Harsha is sent to Bengaluru on a technical assignment, Poorna is alone in the house. The film scores because of the gripping screenplay which arrests the audience's attention and is complemented by brilliant sound effects which add to the eeriness.
Ravi Babu invariably thinks out
of the box and comes up with a good product. The film looks at fear, depicts it pretty well, and shocks you too.
There are places where you wonder why the protagonists behave in the way they do. But that is cinema. The film is also voyeuristic to a large extent. It is very sound on the technical front although the editing in some parts could have been crisper.
Shekhar Chandra's music suits the thriller format. So does the lighting, which enhances the fear factor. The plot is not novel, inspired as it is by a real incident and also by quite a few Hollywood movies.
Avunu
also works because of the acting of Poorna and Harsha. Poorna is good at depicting emotions, particularly fear. She's excellent in the climax. Harsha too shows his brilliance towards the end.
Avunu
is cinema one doesn't get to see often. It is well written and crafted even though it takes its inspiration from Hollywood movies.
Ravi Babu scores with this film. If you like the supernatural horror genre, go watch
Avunu
.
Rediff Rating: