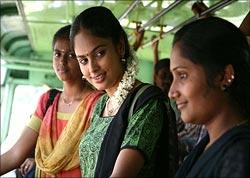 Attakathi  is marvellous coming-of-age film with gentle, tongue-in-cheek humour and realistic dialogues says Pavithra Srinivasan
Just when you think you've had enough of rural love stories that have heroes taking up
aruvaals
at every turn, or urban superheroes who bash up a hundred goons to save their grandmothers, comes a film like Studio Green's
Attakathi
(Paper Knife).
The film directed by Pa Ranjith (director Venkat Prabhu's erstwhile assistant), looks at youth and romance in a most refreshing way.
The storyline can be written on the back of a stamp. It's about the life and times of a youngster Dinakaran (Dinesh) aka
Attakathi
, named so because it's the family title, but more because that name characterises him--a lot of posturing that conceals the insecurities and trials of youth.
Dinakaran, like many of his friends living in the suburbs of Chennai circa 2000, is a fresh-faced young man who scrapes through the 12 standard.
His is a life filled with the promise of romance. Every girl in the world exists for his edification. Every smile shows him a promise of love.
He and his friends write and draw romantic messages in every page of their school books and stand about at bus-stops eagerly searching for a prospective lover.
Dina falls in and out of love with alarming regularity. What makes it enjoyable, though, is the subtle, tongue-in-cheek humour that runs through each escapade: whether it is Dina running after girls in a bus, or getting beaten out of house and home by bullies.
His family and cohorts are etched with neat, efficient strokes, and never has there been a life so free of worries, of people who delight in the simple fact of living.
The dialogues are spot on, poking gentle fun at everyone and everything.
What jars, though, is that
Attakathi
, like other films that have released this year, chooses to portray women as selfish creatures, shallow, insensitive, and basically existing just to provoke boys.
Dinesh, playing the effervescent Dina, seems self-conscious and stilted at first, but you soon realise that he's an actor of great promise. So subtle is his performance that he's the stammering, stumbling, shy boy one moment, and a dashing would-be hero the next.

He is undoubtedly the star, while the rest add the perfect backdrop.

Santhosh Narayan's music carries a fun-filled signature tune that has a lovely Spanish lilt to it. P K Varma's cinematography is superb. Equally effective is Leo John Paul's editing.

Pa Ranjith gives thanks in the movie's credits to directors Vetrimaran and Pandiraj, but to him goes the credit, completely, of taking an ordinary storyline and infusing it with warmth and hilarity.

Though Attakathi's second half drags a little, there's no doubt that Attakathi is well worth your time and patronage.

Rediff Rating: