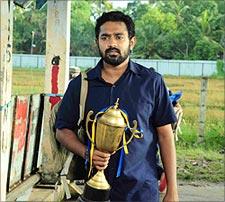 Paresh C Palicha feels Asuravithu a sequel to Stop Violence fails to deliver.
Written and directed by A K Sajan,
Asuravithu
stars the promising young actor Asif Ali, who has experimented with a wide range of roles in his short career.
He played a homosexual character in his debut film
Shyamaprasad
, a villian in
Apoorvaragam
and also tried his hands at comedy with Salt n' Pepper.
Asuravithu
is reportedly a sequel to
Stop Violence
(2002) starring Prithviraj. Although director Sajan denies it, there are many references in the film that make it look like a Stop Violence sequel..
Don Bosco (Asif) is an orphan though he is supposed to be the son of Saathan. He is learning to be a priest but is somewhat hot-headed. The narrative keeps emphasising Don Bosco's back story and the plot seems to suggest that the son follows in his father's footsteps.
There's little realism and too many cliches in Don Bosco's story. Conditions in the seminary are so bad that it drives students to leave. Corrupt law-enforcers
perpetrate atrocities on the common man, driving him to crime. Whatever semblance of reality there was is lost in the second half as our boy becomes a designer don wearing blazers, jackets and branded glares and doling out
Godfather-
like style of justice.
The other members of the cast are Samvrutha Sunil as Marty, the leading lady who ferries a boat in the backwaters and seeks the attention of the hero. In the first half, her role has some importance as she is the artist who sketches images of criminals for the police. But, she virtually vanishes from the scene in the second half.
Baburaj, as the priest with an acerbic tongue and Don's spiritual guide, is in super form. Vijayraghavan as the main villain is overly made up and overacts.
We know that Kochi is a growing city and we are also aware that there are criminal elements mushrooming who want their cut of the pie. But filmmakers lazily replicating the same old underworld stories is not done.
Final words: There was a lot riding for Asif on
Asuravithu
. Sadly, the film doesn't help him much.
Rediff Rating
: