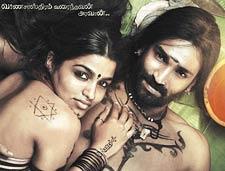 Pavithra Srinivasan feels Aravaan scores with its lyrics. Post YOUR reviews here!
Director Vasantha Balan paints a moving picture of nostalgic times when he was an avid listener of '80s music on the radio, through the music of his next film, Aravaan.
Singer Karthik turns composer for this film, while Viveka and Na Muthukumar have penned the lyrics.  Here's a listen at what the album has to offer:
Viveka starts off with the rather different Oore Oore. Mukesh, Krishnaraj, Periya Karuppu Thevar, Rita, and Priya have all pitched in with the vocals, and although it starts in a subdued fashion, after the first interlude, the pace picks up. And though it sounds a bit too sugary-sweet at times, the chorus saves the song.
Nila Nila, in keeping with its opening strains, is a slow, romantic number rendered by Vijaya Prakash and Harini, and there are times when you think you're actually listening to a '60s number. A mildly pleasing number.
The way Kalavu begins is very interesting. Mano, Kottaichami, Karunanidhi, Rahul Nambiar, MIR Karthikeyan, Vijay Narayan, Malathi Amma, Pasupathi, and Harish, have all sung enthusiastically, answering the call to steal. The energetic routine, with its thundering beats, is pretty appealing even as you gasp at the audacity of it.
It's Bhavadharini who picks up the vocal reins for Unna Kolla Poren in this romantic number, which carries nostalgic strains and still makes pleasing listening. MIR Karthikeyan accompanies her ably, and the charanam retains the sweetness and gentle affection that the song begins with.
Ominous strains and a lament begin Nagamalai which is sung by Gopal Rao, Sirkazhi Siva Chidambaram and Narayanan. It comes with thumping beats but the tune meanders in several directions.
Nandhakumara has a classic touch courtesy Subiksha and follows pretty much the standard template of pining love.
When Oruvaan commences, it takes some time to recognise the faintly Latino flavour, as Karthik goes to town with the song.  There's nothing very special about this number.
Though the lyricists score better, debutant composer Karthik has tried his best to come up with a sufficiently period collection.
Aravaan is worth a listen.
Rediff Rating: