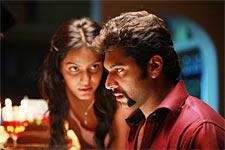 S Saraswathi says there are no heroes in Tamil film Ameerin Aadhi Bhagavan, only villains.

After a brief run in with some Hindu organisations, who objected to the film title claiming it hurt their sentiments, Ameer's much awaited Aadhi Bhagavan finally releases in theatres with a slight modification to its title. The film is now called Ameerin Aadhi Bhagavan

Produced by DMK politician J Anbazhagan, under the banner of Anbu Pictures, this film has been in the making for almost three years and has been shot in some exotic foreign locations, as well as many states across India. The film has been certified with an 'A' certificate.

To live up to the expectations of great films like Paruthiveeran and Ram is not an easy task, and though Ameer has tried his best to recreate that magic, he has only succeeded to some extent.

Branded as a Mafioso action love story, Ameerin Aadhi Bhagavan has actor Jayam Ravi and Neetu Chandra in the lead roles with Sudha Chandran in a supporting role as the lead actor's mother and Malayalam actor Saiju Kurup playing the role of a villain. Also making a special appearance in the film is Ameer himself and Sakshi Shivanand, who was roped in to perform an item number for the movie.

Jayam Ravi plays the role of an underworld don Aadhi Shanmugam based in Bangkok, who is obsessed with making money. Karishma (Neetu Chandra) plays his love interest.

The film opens in Andhra Pradesh, where there is some controversy about two brothers and some local politicians involved in illegal granite quarrying. Aadhi takes advantage of the situation and impersonating a CBI official, manages to fool the brothers and gets away with their black money.

The story then shifts to Bangkok, where Aadhi is portrayed as a powerful
Mafioso, who makes a lot of enemies through his shady dealings.
Aadhi is estranged from his mother (Sudha Chandran), who is against his bad ways and refuses to accept any help from him. Aadhi then meets Karishma at a bar which he frequents and it is love at first sight for him. Karishma convinces Aadhi to travel with her to Mumbai to meet her ailing father and it is here that the story takes an unforeseen turn.
Unknowingly Aadhi is trapped in a dangerous game played by Karishma, who is not what she appears to be. The second half of the film is not what you expect, and though there is too much of violence, the twists and turns in the plot keep you on the edge of your seat.
Whether it is the beaches of Pattaya, the deserts of Rajasthan, scenic Goa or Mumbai, cinematography by K Devaraj and R B Gurudev is an absolute treat to the eye. Each and every scene has been picturised tastefully.
The Ameer-Yuvan Shankar Raja association goes back to
Mounam Pesiyadhe
, Ameer's directorial debut film, and the duo has worked together in every film since then, giving great hits. This film too has some great music, but the songs have not made much of an impact.
Ameerin Aadhi Bhagavan
has good performances by the lead actors and some extremely well shot action sequences. Jayam Ravi as usual has given a great performance. He has many different elements to his character and he portrays them very well. Neetu Chandra has taken full advantage of the meaty role, she has been given. She has shades of grey to her character, which will definitely be be well appreciated.
The film may not appeal to all audience as there is way too much of violence and every second scene is a fight scene.
There are no heroes in
Ameerin Aadhi Bhagavan;
only villains.
Rediff Rating: