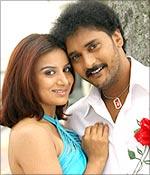 Balaji returns with a refined performance in the Kannada movie Iniya, an average presentation from a promising director like Mahesh whose first film, Mussanje Maathu was a finely knitted sentimental yarn backed by good performances from Sudeep and Ramya, and a scintillating music.
As for Iniya, the movie is handicapped by a faulty characterisation. Even the music does not match the brilliance of Mussanje Maathu. Iniya suffers mainly because of a weak script by Mahesh who has forced some sequences to give a sentimental angle to the film. The so called mother's sentiment falls flat as many sequences fail to strike a chord with the audience. Mahesh has tried to include some unrelated comedy sequences and fights too which do not gel with the story line. To make things worse, the film drags, testing your patience several times.
Mahesh should also be taken to task for propogating a regressive idea through this film which is totally anti-feministic. The male chuvanistic angle is given a platform through this film. There are lot of punch dialogues which question the integrity and commitment of a woman towards love and at the same time hailing the view point of a male who stands by his love.
The characterisation of the heroine suffers mainly because she has been presented as a woman who changes tracks through her whims and fancies. Even the portrayal of many woman characters in the film as gullible and submissive is questionable.
The story is about Balu, who belongs to a joint family headed by a patriarch. Janaki who is friend of Balu's cousin arrives in the house at the time of her friend's marriage. After some initial misunderstandings, Balu and Janaki start loving each other. Balu saves Janaki from a gang of rowdies during his visit to the city. On the day of marriage Balu is arrested because he had attacked a big business man's son. Once Balu is implicated in the crime, his mother is thrown out of the house by her scheming relatives. Whether Balu saves his love after his release forms the rest of the story.
To be fair to Mahesh there are some sequences in the film which create some interest. Especially the sequence after the death of Balu's mother and some comedy oriented sequences in the first half.
Balaji has really carried the film on his shoulders with a good performance. He comes out well in the action sequences. It is a pity that Pooja Gandhi was offered such a role with grey shades. Her characterisation too is weak. Sanketh Kashi is good in one sequence while nothing special can be said about the rest of the cast. Even seasoned performers like Oorvashi and  Jai Jagadish have been wasted in the film.
Music by Sreedhar is above average. Compositions like Yaarannu, Mudhdhaadha I Naguvige shine. Sundaranatha Suvarna's camera work is good too.
Overall Iniya is worth a watch Balaji.
Rediff Rating: