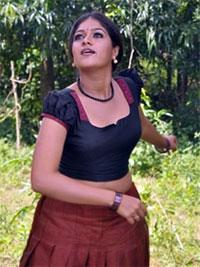 Paresh C Palicha reviews the Malayalam film, Yakshiyum Njanum.
Whatever the case we cannot just ignore director Vinayan, the enfant terrible of Malayalam film industry taking on the organised unions in various sections of the industry.
We may have issues with the quality of his work. But, he refuses to be bowed down by the powers that be. His latest venture Yakshiyum Njanum, mostly starring newcomers and a few actors from the fringes.
The story and the treatment are unabashedly meant for the front benchers, who guarantee to fill the theatres to watch skimpily clad heroines and enjoy crass humour. Vinayan has put ample doses of both in the story that is weaved with the events that have hogged the headlines in the recent past with computer generated horror thrown in.
The story has no relevance as such in this enterprise, but for those of you who will not relent without knowing, here is it; a minister's daughter is in love with a pauper, obviously the minister and his son do not approve of this relationship. They decide to bump off the boy by hiring a killer. They hire a youth who is in dire need of money for treating his sister's terminal ailment. The young fellow does the job and the minister's son arranges a hiding place for him in an abandoned guest house in the midst of a jungle. Here he sees a beautiful female dancing under the waterfalls and thus begins their romance. The female does show some supernatural powers along with her navel and ample cleavage. And, as expected, the female turns out to be a Yakshi (an haunted soul) who has to settle some old score with the minister.
In addition to the above, there is incessant chanting of mantras and slokas around holy fireplace courtesy veteran actors like Thilakan and Mala Arvindan, acting as priests with the expertise in warding off evil spirit.
Technically speaking, the computer generated special effects leave much to be desired and the splattering of gallons of blood is funny rather than scary.
To be fair to the newcomers, Gautham as the hired killer Shyam has the personality and the staying power, if he gets more opportunities. Meghana simply shows off oomph.
Old timers like Thilakan, Mala Arvindan and Spidikam George are reduced to hamming instead of performing.
On the whole, Yakshiyum Njanum is a substandard fare and nothing more.
Rediff Rating: