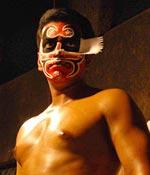 There are films that pleasantly surprise you in times when originality goes for a toss.
One such film is Nayakan, a Malayalam film that not only grabs your attention by its originality of premise or treatment, but by its sincerity as well.
Directed by debutant Lijo Jose Pellissery, the film stars Indrajith.
The previews and the trailers may have given you an idea that this film is about a Kathakali artist getting embroiled in the underworld. But, to give credit where it is due, we have to say that this film is much more than that.
The narrative begins with a corpse waking up on a post mortem table. From here on, we get to hear the story in his voice-over. The interesting part is the way the story moves back and forth making the viewer sit in rapt attention to understand the going ons on the screen.
To put it simply; this story is about a Kathakali artist Varadhan Unni (Indrajith) who joins the underworld to avenge the murder of his father and sister at the hands of the underworld don Sankar Das (Siddique). Then it goes on to show how he accomplishes the mission.
There are a lot of interesting characters working for and against him. Vardhan Unni gets the support of a retired don Vincent (Thilakan), who has made a gang of orphaned street kids. Though he has hung his boots after the death of his son, he regroups with his men to help Varadhan in his mission.
The screenplay by P S Rafeeq uses languorous pace to unfold the story. But, it never feels pretentious as the dialogues used here are real and natural.
Indrajith as Varadhan Unni looks intense and has the spontaneity required for such a role.
Thilakan puts his weight behind the character of Vincent and gives it a kind of naturalness, while a lesser actor would possibly have gone over-the-top.
Other actors in the supporting cast use their optimum capabilities to perform. Lalu Alex as the police officer and Sreejith Ravi as one of Varadhan's allies deserve special mention.
Siddique as Sankar Das makes overuse of his histrionic capabilities and is susceptible to go over the top.
Nayakan would have been easily classified as a very good effort but for the rather long second half. Still, it's worth a watch.
Rediff Rating: