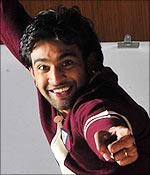 Shruti Indira Lakshminarayana reviews the Kannada movie, Gandedhe.
Telugu film writer Siva Akula forays into the Kannada film industry as a director with Gandedhe (Brave heart), a masala flick starring Chiranjeevi Sarja.
The action packed film tells the story of Krishna and Nandini. It's the case of opposites attract with these two college goers. While Nandini (Ragini Dwivedi) is a numero uno student, Krishna (Chiranjeevi) is a good-for-nothing back bencher. But Nandini, after continuously being pursued by Krishna, falls for him.
Everything is hunky dory until Nandini's father, a powerful individual, decides to marry her off to an NRI. Not the one to take things lying down, Krishna, along with his gang of friends, hatches a plan to kidnap Nandini and marry her. Does the brave heart succeed?
Siva Akula finds it hard to leave behind his roots and the film seems like a mix and match of several Telugu films. The songs, fights and the screenplay seem familiar. There is a fair share of heavy duty action scenes and Chiru gets his jumps, punches and kicks right. This, being his second release, the actor promises to show improvement in his dialogue delivery and body language in his future projects. Ragini looks good as a traditional girl. However she is mostly limited to songs. Manoj, who debuted in Veera Madakari, plays the main villain. But he has little to do in the film. Sharath Lohitashva, Devraj and Rangayana Raghu do justice to their roles. Raghu as SMS aka Real Estate agent 'Settlement' Sathya, in particular comes out with a good performance. He adds spark to the film.
Action sequences entertain, if only the music and dialogues were complementary. Music is by Chakri. Songs fail to make an impact and the lyrics don't help in the least. Most songs come with a heard-it-before feel too. What's more is that they add to the length of the film. Overdramatic dialogues and scenes like the one in which an immersed Ganesha idol helps the hero, who has been thrown into a river by goons, to recover, spoil things further.
All in all, a confusing potboiler.
Rediff Rating: