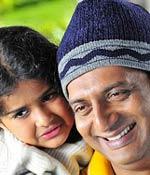 Prakash Raj's much awaited directorial debut Naanu Nanna Kanasu does not disappoint.
Nannu Nanna Kanasu, the Kannada version of Prakash-Trisha starrer Abhiyum Nannum (which is loosely inspired by Father of the Bride), celebrates the father-daughter relationship.
Kanasu (Amoolya) is the centre of her father Raj Uthappa's (Prakash Raj) universe. The two share a close bond and are more like best friends. Kanasu grows up to become a strong and independent girl and even chooses her own life partner. Her father finds it hard to digest this not because the boy is from a different community, but mostly because of the fear of losing her. Can Uthappa come to terms with the fact that his Kanasu (dream) now has her own dreams?
The film beautifully captures the friend-philosopher-guide relationship that most fathers share with their daughters. It also shows how important it is to encourage children to think independently and trust their choices, and that the elders have a lot to learn from their children. The film further establishes how it is not family alone that shapes up a child's attitude but the society and media as well.
Prakash comes out with an award winning performance yet again. He is easily relatable and you'll find yourself sharing his joys and sorrows. He excels both in comic and sentimental scenes with equal ease. However the chemistry he shared with Trisha is better that the one he shares with Amoolya.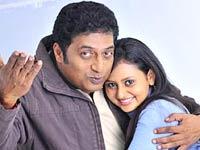 Also, Amoolya has given a better performance in her previous release Premism.
Sitara who is making a comeback to Kannada films proves to be an apt choice to play Kalpana, Kanasu's practical yet loving mother. Achuyta does a fine job of his 'Brijesh Patel' character. He even shakes a leg in this film. Rajesh and Rutu are the other TV actors who make their presence felt. Ramesh Arvind does a cameo in the film.       
Hamsalekha's music and lyrics make the film more meaningful. Putta putta kai putta baye... and Noorondu nenapu... are songs that will touch your heart. Sonu Nigam, Kailash Kher, Hemanth Kumar and Shreya Goshal have lent their voices for the songs.    
Dialogues, also by Prakash Raj, have been written keeping in mind the nativity. Comic one-liners and scenes have also been well placed. The narration technique used is also good.
Though the original came with better visuals, Ananth Urs has done a decent job with the camera and kudos to Harsha, the editor for presenting a crisp output. In fact some scenes from the original have been done away with and a few minor changes have been made to a few others, contributing to the ideal length of the film.                
Book your weekend show for Nannu Nanna Kanasu. It is a must father-daughter watch.
Rediff Rating: