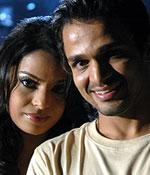 Finally here comes a tautly made Kannada film with some brilliant moments. It is a treat for those who are looking for elegantly made thrillers. The film in question is IPC Section 300.
Despite its little flaws like an absurd humour track (Why can't the director chop off those sequences?) and unnecessary songs, IPC Section 300 is an enjoyable watch.
Debutant director Shashikanth, who earlier made ad and corporate films, comes out with a thriller which is quite unlike the run-of-the- mill flicks. The main factor that works for the film is the gripping narration which keeps you on the edge of your seats despite knowing  the culprit behind the murder.
Another thing that separates IPC section 300 from other thrillers is that it touches an emotional chord too. You may even sympathise with the murderer while appreciating the brilliance of the investigating advocate. The intelligent handling of the idea from a debutant director surprises you.
The story revolves around Mallikarjun, a successful businessman shooting his infidel wife Sheela in broad day light in his house. He then surrenders to the police. The chief police investigator happens to be the person who had an illicit affair with Mallik's wife. Mallik who refuses to take the help of a defense lawyer denies his involvement in the crime and argues his own case. Vijay, a young public prosecutor finds this case intriguing and challenging. How he unravels the case in the face of the determined efforts of the murderer forms the backdrop of the story.
Besides wonderful performances from artists like Devaraj and Vijaya Raghavendra, it is Krupakar's fantastic background music that has taken the film to greater heights. Priyanka has been wasted in the film, though. She has been included only for adding some songs and comedy into the film.
The screenplay and dialogues by Shashikanth are very realistic. The film as a whole belongs to Shashikanth who has to be appreciated for the choice of the subject and for exercising total control over his narration.
IPC Section 300 is a treat for Kannada film fans.
Rediff Rating: