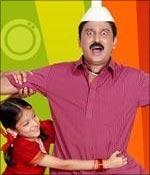 Crazy Kutumba (CK) is an all's well that ends well kind of a film. Though inspired by Marathi movie De Dhakka, which in turn borrows from Little Miss Sunshine, this Kannada version has its own native flavour.
The film centres around Shankar Patil's (Ramesh Arvind) family. Shankar, a mechanic in Belgaum, wants to invent an engine that reduces fuel consumption. The only support he has is his coy and loving wife Sumathi (Sana). Shankar's drunkard father Mallana (Ananth Nag), is dead against his invention as it would cost him his land. There is an entire family to be taken care of and this invention seemed to be making no headway at all.
While Shankar wants to become an inventor, his young brother wants to be an award-winning wrestler. There is also Gowri (Dhanya), Shankar's little daughter who aspires to become a dancer and it's her dream that gives the story a push, taking the family on a roller coaster ride called life.
The girl is selected to participate in a reality dance show and the family decides to put their many differences aside and travel to Bangalore. The road trip that they undertake in a tum tum (auto) forms the major part of story.
While the out-of-order auto, two accompanying money-minded musicians, wannabe wrestler and Shankar's Kleptomaniac brother-in-law are in charge of the comedy department, Ramesh and Nag bring out the sentiments. Sumathi and Gowri are the balancing factors in the film.
After a few untoward incidents, the crazy kutumba (family) manages to reach Bangalore only to be told that they are late. Anyway, good things happen to good people and Gowri does manage an entry into the contest.
The film apart from stressing the fact that all problems can be solved if the family comes together, talks of the existence of both a Bharath and India. There is also a lecture on the urban-rural divide and the importance of talent.
As the characters are from Belgaum, they speak Kannada in the North Karnataka style -- that too very convincingly.
Coming to humour, it is the scenes between Anath Nag and Ramesh that mostly invite laughter. The comedian in Rajinikanth (who plays kleptomaniac) impresses only at a few places. Also the film could have done without Sundari's character.
Some of Kannada's famous poems have been used as songs in the movie. All of Ricky Cage's songs have been aptly placed and though not catchy, are easy on the ears.
Picturisation could have been better, seeing as this is a road movie.
All in all, a film meant to watch with the whole family.
Rediff Rating: