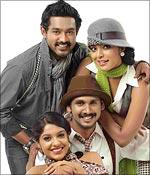 Paresh C Palicha reviews the Malayalam film Best of Luck.  Post YOUR reviews here!


Malayalam film
Best of Luck
is
director M A Nishad's latest offering starring new generation actors Asif Ali, Kailash (of
Neelathamara
fame), Archana Kavi and Rima Kallingal. The film also stars seniors like Prabhu and Urvashi, and Mammootty in a cameo.
Nishad, who has given us interesting films like
Pakal
and
Vairam,
tries his hand at comedy and makes a film that looks like a Priyadharshan film of the past. There is confusion galore with mistaken or changed identities, foolish impersonations and slapstick comedy. He even tries to spoof the new Malayalam film fetish for a Tamil background in all the films.
Mukesh is the sutradhar who narrates the premise and introduces the main characters. We are introduced to Soorya (Kailash), Manu (Asif), Diya (Rima) and Neethu (Archana). 
Soorya and Neethu are aspiring musicians and Manu and Diya wish to make it big in the film industry. Soorya and Manu live together in a house provided by Soorya's elder step brother Vinayaka Naickar (Prabhu) who also provides a small amount for their monthly expenses through his local lawyer played by Jagathy Sreekumar. This section is filled with comedy by their cook played by Suraj Venjaramudu. The way they live reminds us of Jagathy Sreekumar and Mohanlal in Priyadasrshan's
Kilukkam.
Manu and Diya are small time TV reporters who get a chance to meet Mammootty on a shooting location. Manu narrates the thread of a story to Mammootty which he asks him to develop into a script. This makes up for next comic situations as Manu scouts for a producer to finance his film. He makes Soorya to act as his producer to get the required money from the financier (Beeman Ragu) who charges interest on a daily basis.
The rest of the story is so complicated that it can't be explained here. Suffice to say that the comedy goes haywire when Urvashi and Prabhu enter the scene.
Performance-wise, the youngsters are sincere but cannot do much due to poor subject. Asif Ali has a few moments as the trickster with a comic bone. Kailash looks lost most of the time. The two leading ladies are outdone by veteran Urvashi. Prabhu too tries to be convincing but never looks comfortable in the hackneyed proceedings.
Nishad's bravado to try comedy with Best of Luck must be commented but he fails to deliver an engaging comedy.
Rediff Rating: