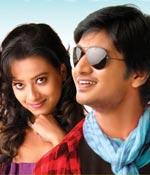 Radhika Rajamani reviews the Telugu movie, Alasyam Amrutham. Post YOUR reviews here!

This film is shot in just one location -- a railway station (barring the songs) -- within a stipulated time.

The film directed by Chandra Mahesh revolves around a bunch of characters who wait to board the Simhadri Express, which has been delayed by two hours.

The characters who are waiting to board the train include the lead pair of Ram (Nikhil) and Vaidehi (Madalasa Sharma), two swamiji's chanting 'Hare Rama Hare Krishna', a Christian who chants, prays and speaks Telugu in a particular way (Dharmavarapu), an astrologer and his disciple, a number of women, a station master (MS Narayana), a thief (Ali), newcomer Arvind Krishna, and a police constable Raghu babu and his cronies.

In the midst of it all this is a crying baby who has been abandoned. The motley bunch then tries to trace the baby's parents.

The film has all the commercial staples -- songs (shot against the verdant picturesque landscape of Vizag and Araku for a change and not in foreign locales), an item number (totally unnecessary), some action sequences, bit of humour (though the sequences involving Raghubabu and his cronies are crude and could have been avoided).

While entertaining, Chandra Mahesh also has a message to pass across. While the first half sets the tone, the second half slackens a bit. The film has its share of loopholes but it's the theme and duration which work well. Before one realises the breezy film is over. There have been films like this shot in one place within a time frame before , Prayanam being the recent case in point.
Producer Rama Naidu has shown that a film can be made within a moderate budget and be simple and fairly entertaining at the same time.
Nikhil and Madalasa are good as the lead pair. Debutant Arvind Krishna makes a mark. Dharmavarapu leaves an impact with his lingo.
On the whole, Alasyam Amrutham makes for an interesting watch