Towards the middle of Singh is Kinng, Akshay Kumar and his band of Sikhs -- played by Om Puri, Yashpal Sharma, Sudhanshu Pandey and Kamal Chopra, along with Neha Dupia and a contingent of scantily dressed dancers in feathers and pearls, break into the song Bas Ek Kinng. 
The video of the song has been playing for weeks on cable channels and part of the preview of the film. But to see it on a big screen with the music blasting (as it always happens with Bollywood films), is a treat.The quick edits, flash of lights reflecting in a set of the mirrors in a night club, the slow motion shots, and the voices of Mika Singh, Neeraj Sridhar, Ashish Pandit and Hard Kaur, all add to a quality video -- Bollywood at its technical best.
In the centre of this video is Kumar in his black sherwani, with embroidery, dark glasses and a black turban. In key moments he raises his right hand with a tight fist and looks down. He then opens his fist and he looks straight at the camera with a hardened expression. At other moments he twirls around, holding the end of the sherwani and then settles down to sit, his legs comfortably apart and a grin on his face. And at all times he is surrounded by the dancers.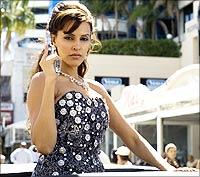 In the song Kumar seems to be defining the word cool for Bollywood. He can be a likeable village bumpkin in Namastey London and even in the beginning scenes of Singh is Kinng, but in the Bas Ek Kinng song, Kumar is nothing short of a movie star with a huge screen presence.
And we sense his presence again and again -- when he lip-syncs Teri Ore with Katrina Kaif by the pyramids, a black and white keffiyeh wrapped around his neck and his lips parted in a huge smile; or all the times he dresses in some of the best costumes ever designed for a Sikh man -- a suit jacket with Capri pants and a white turban; or a green turban and a jacket with gray checks.
When Singh is Kinng works, it is because of Kumar, his charming smile and his comic timing, sometimes supported by Om Puri's equally funny retorts. 
But most of Singh is Kinng is silly -- although mindless, series of disjointed plotlines. Lucky Singh (Sonu Sood) is a successful underworld leader in Australia and is referred to as the "king."
But the village where Lucky was born is embarrassed by his illegal activities. And so the villagers send Happy Singh (Kumar) -- a likeable buffoon, to bring back Lucky. Happy is accompanied in the journey by his buddy Rangeela (Puri). A mix-up of boarding cards at the airport (in the post-September 11 world?) and two land in Egypt for a brief action, and a song and dance sequence.
Also Read: Akshay romances Katrina in Egypt!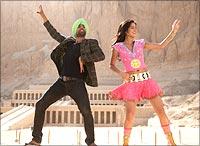 Why Egypt?  Because Happy has to meet Sonia (a beautiful Kaif, who continues to deliver her lines in a stilted and annoying Hindi), who is a law student there and writing a book on criminology (or something like that).
Eventually they all land on the Gold Coast of Australia. Happy meets a desi Rose Lady (Kirron Kher in her usual over-the-top performance) and he finds a mother figure in her. But Sonia is the Rose Lady's daughter and she is about to get married to Puneet (the very talented Ranvir Shorey, playing a pouting, spoilt rich man). 
And Sonia does not know that her mother is poor. So the Rose Lady is depressed that her daughter is about to arrive in Australia. Happy -- who is secretly in love of Sonia and has smoothly transformed into a cool "king" himself, then comes up with crazy scheme to resolve this convoluted situation.
By this time Singh is Kinng has already started to crack under the weight of the layers of unreal situations. If the film keeps our interest, it is because of the occasional comic moments and mostly since Kumar is there to carry the burden of a poorly written script. And he does it with a smile on his face. He is having fun entertaining us -- even when the film is going nowhere. 
One final thing -- about the much talked about Snoop Dogg's hip-hop song -- Singh is Kinng. The song is plastered at the end of the film as the credits roll. This is such a meaningless trend in Bollywood, where a hip videos are shot, but then cannot be used in the film. So what we have is a pointless video – perhaps a marketing tool, but with little or no relevance to the film itself.
Rediff Rating: