There's nothing wrong in Vidya Balan's performance. There's just nothing new about it, feels Sukanya Verma.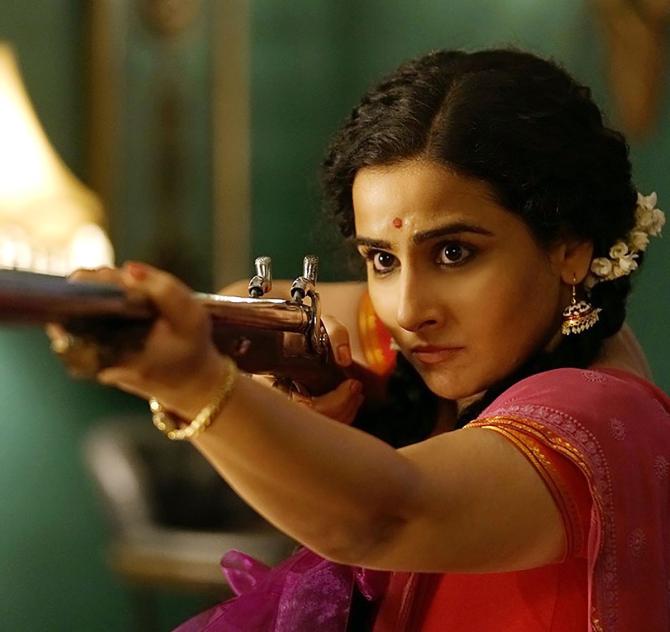 You could be really good at mathematics and marvel at the ease with which Shakuntala Devi calculates the cube root of large numbers.
Or you could be a complete arithmophobic and still reel in awe over her ability to multiply.
But when has a woman ever been just what she loves?
She must be defined by her roles.
So, it's not just maths but also motherhood that finds itself at the centre of Director Anu Menon's eponymous biopic on India's 'human computer'.
Her desire to be more than a mother as well as the best one becomes both a moot point and a mark of emotional distinction as the film progresses.
Described as a 'true story as seen through the eyes of a daughter', Shakuntala Devi glances through the strained relationship between the duo over a span of several years.
While doing so, it also gets into the chapters encompassing a child prodigy's ascent to fame whose record-breaking triumphs and nonconformist lifestyle as an adult (Vidya Balan) are perceived as negatives by her neglected daughter, Anupama (Sanya Malhotra).
Complicated mother-daughter ties make for fascinating study in films like Ingmar Bergman's Autumn Sonata, Greta Gerwig's Lady Bird and Hirokazu Koreeda's The Truth.
Shakuntala Dev's biopic baggage denies dwelling on it too intimately, something of a Menon speciality. She has a gift for heart-to-hearts while accepting pragmatism as a way of life.
But Shakuntala Devi's flamboyance overshadows nuance.
The storytelling is rich in smugness and drives the greatness of its subject's genius and unconventional attitude to a point it appears ingratiating.
Every reality is dramatised for cinematic purpose but to what extent is a film-maker's prerogative.
This one goes a tad overboard.
Cinematographer Keiko Nakahara's softly lit frames make no distinction between her fabulousness and fallibility. Lest we forget all roads of the genre lead to a moving speech.
Even so, Menon's formulaic, filmi treatment isn't without its moments.
Scenes of introspection wherein the film-maker gently identifies the pattern of children subconsciously becoming the parent they so didn't want to be are telling.
The movie finds it legs when it moves away from its 'she came-she-saw-she conquered' obligations to sneak into Shakuntala's conceit from someone seeking validation (Am I correct?) to someone who became a show-off (I never lose) along the way.
Shakuntala has come up the hard way and never misses a chance to playfully flaunt her success.
Affluence matters to her as much as intelligence and good looks.
The latter two are her only criteria for picking a husband (a reliably solid Jisshu Sengupta) to have a baby.
Short-lived as it is, the significant other turns out to be the torchbearer of supportive spouses. Precisely why his sudden outbursts, without any indication of frustration creeping in, never quite add up.
There is much more to chew into the episodes triggering Shakuntala and Anupama's growing differences as they enter a legal battle while a series of flashbacks play out to explain why.
We get a glimpse of mommy issues passed on in legacy, patriarchal suppression and hypocrisy in fleeting episodes of Shakuntala's childhood but neither her resentment towards her mother's submissive attitude nor her trauma over her sister's untimely demise are clearly fleshed out.
We are privy to Shakuntala's romantic candour in India (a dreadfully hammy Neil Bhoopalam) and abroad (a stiff Luca Calvani) if not what inspired her to write a book on homosexuality.
We see her fluency in numbers, but not an insight into her mathematical mind or methods.&
Early portions of the storytelling struggle to settle on a tone and accent, but the conversation (dialogues by Ishita Moitra) are free flowing.
What Shakuntala Devi visibly struggles with is period detailing.
Just because the characters belong to a certain era doesn't mean they have to look like victims of its fashion.
If anything, the real-life pictures of the people inspiring it in the end credits confirms the inaccuracy.
Despite the frumpy wigs, Sanya Malhotra does well to bring out the vulnerability of a daughter yearning for her mother's time and father's presence.
She humanises the contempt Anupama feels for Shakuntala's professional dealings in such genuine ways, it never seems insolent.
The settlement scene towards the end would not work if it wasn't for this grounding quality she imbues to her meltdown.
Her marriage (to Amit Sadh, exuding heaps of grace and charm in a supporting role) is one of the more heartfelt arcs against its larger-than-life focus on Shakuntala Devi.
There's nothing wrong in Vidya Balan's performance. There's just nothing new about it.
She has played various versions of this charismatic, go-getter, persona.
A sense of familiarity colours her enthusiasm, struggle, rejection, arrogance, humour and ageing in the spirit of Silk and Sulu.
What I found unique about her portrayal is how even the most independent of individuals can't help be controlling. Shakuntala Devi would be better for it had it dwelled some more into that.
Shakuntala Devi streams on Amazon Prime Video.
Rediff Rating: