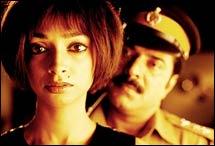 The conscience is a precious commodity, especially in today's age when human aspirations have reduced morality to a mockery.
Debutant director Bappaditya Roy's morality tale is an arresting ensemble piece. Set in an unscrupulous business tycoon's living room, it aims for the onion effect. As layer after layer of guilt is peeled off, we come face to face with the mirror image of a society that respects only money and success.
Adapting the dark and forbidding mood of Govind Nihalani's Party and Roman Polanski's Death & The Maiden, Roy gets considerable help from his competent cast in creating an ambience of retrospective stock-taking, as police inspector Vivek (Mammooty) cross-examines one member of the tycoon's family after another regarding the suicide of a hapless girl in a chawl.
Capitalist arrogance meets bourgeois angst here. The jerky, jolting quality of the narrative gives the plot a quality of unpredictable investigation, so that we aren't just watching a family's life come apart, we are also looking at a well-crafted tale of crime and retribution.
To Bappaditya Roy's credit, he doesn't let the anger of indignation overpower the narration. Controlled and calm, the film moves forward with minimum fuss, as character after character is devastated in the course of one night's soul-searching.
The flashbacks about the dead girl's past cut into the placid drawing-room setting like lightning on a cloudy night. By the end of it all, we are compelled to look inwards for answers on social inequality that have plagued our system of governance for years.
Not that Sau Jooth Ek Sach really aims or succeeds in being anything more than an interesting -- though incomplete --  exploration of a festering value system. The editing is intermittently choppy and dialogues tend to get shrill in their selfrighteousness. But there are interesting performances, particularly by Neha Dubey as the body-phobic daughter of the business family who finds her bearings before the night is through. Joy Sengupta (who played Jaya Bachchan's son in Govind Nihalani's Hazaar Chaurasi Ki Maa?) epitomises the theme of guilt and redemption more aptly than any other member of the cast.
Vikram Gokhale looks fine as the arrogant tycoon. But his performance loses its edge the minute he opens his mouth to let lose a volley of vernacular English dialogues.
Mammootty's comeback is disappointingly low-key. As the plot's conscience-keeper, he seems to be standing above the troubled subject, looking into a crisis that's not really his.