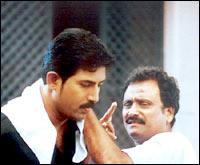 Barring a few good comic moments, promising director Neelakantha gets it all wrong this time. The director, who bagged the National Award for Show and state awards for Missamma, fails to come up with a unique plot and engrossing screenplay.
The director tries to drive a wedge between newly married lovers with a contrived plot. He invents trivial issues to develop differences between the couples, and their repeated quarrels make a mockery of their 'great' love.
Shreya's role is marred with inconsistencies since once she even walks out on him and returns, and urging him to shut down his legal bureau for petty reasons punctures her individuality.
Actor Venu displays his fine comic timing but the unrealistic theme could scuttle his dreams of a strong comeback. Comedians Sunil and Mallikarjun hold your interest, while the trivial quarrels test your patience. Vandemataram belts out two good numbers.

Director Neelakantha, who entertained audience with just two characters and a taut screenplay in Show and showed similar acumen in Misamma, this time opts for an ill-conceived plot. However, his comedic sensibilities work well. He preaches few ideals, but they are preached around trivial conflicts barring the reformation of a corrupt MLA. 

Actor Venu, whose last release Chepava Chirugali was a dud, opted for a comedy to revive his career without realising that even a fun film requires a solid plot.
A psychiatrist solving disputes by exploiting the opponents' weaknesses might sound good on paper but it cannot be adapted into a film since the ' legal bureau' looks far from real.

Shreya, who impressed with her histrionics in Santhosham and Tagore, picks up a poorly defined role. She loves Venu without even knowing about his goals, and elopes with him.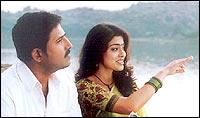 Later she keeps nagging him about his troublesome profession, which doesn't suit a level-headed lecturer, and also seems a blot on their matured relationship.

Comedian Sunil, once zooming towards the top, slipped by repeating himself constantly. Finally, he gets a good role and impresses as the hero's lawyer friend, becoming a brother for all his lovers. He is ably supported by Mallikarjun. Tanikala Bharani, playing Shreya's father is more than a bit loud.
The director again teams up with composer Vandematram Srinivas to come up with an impressive album. Hello hello is a chartbuster, while the rest have repeat value.