Is this for real? Sensex@30K? When the whole world is embroiled in a financial bloodbath, is it possible for aapro Sensex to touch 30,000 circa 2008?
Unbelievable, but then that's Bollywood for you as Saas Bahu Aur Sensex -- written and directed by Shona Urvashi -- proves once again that anything is possible in dreamland.
The agonising 140-odd minutes of the film is a tale about a Parsi stock broker Firoze Sethna (Farooq Sheikh), who is 'rude and insensitive', oomphy Mrs Binita Sen (Kirron Kher) and a gaggle of women.
Speaking of oomph, there seems to be an abundance of it here whether its older ladies like Lillete Dubey (playing the protagonist Ankur's Sindhi mother), Sharon Prabhakar (playing Punjabi-mouthing ribaldrous housewife who urges you not to miss the 'r' in her last name Brar) or the younger and of course, scantily clad women led by Tanushree Datta and Masumeh Makhija.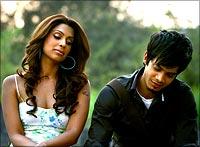 The characters are almost caricature-like. A group of stereotypical Tamil, Punjabi, Maharashtrian, Muslim, Sindhi and Bengali middle class housewives, led by Binita, want to invest their money in the roaring stock market even as it reaches the 10,000 level threshold.
The main plot -- if you can call it that -- entangles itself between the Sensex's journey from 7,000 to almost 30,000 points and the love triangle that embroils the life of newcomer, clumsy Ritesh Jethmalani (Ankur), greedy Kirti Wagaskar (Masumeh) and depressed-by-her-parents'-divorce Nitya Sen (Tanushree). There is no continuity in the storyline and characters lack depth.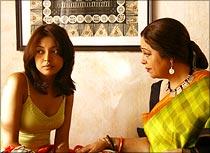 Shona Urvashi treads the tried-and-tested formula of Mumbai-as-a microcosm-of-India where people (mostly saas and bahus) belonging to different religions and regions lead a normal life, which include gossiping about what their society's new arrival Binita is doing with Mr Sethna, discussing and mocking the sex lives of their neighbours, cracking ribaldrous jokes (watch the scene where Sharon Prabhakar holds two papayas in her hand and says, 'Aajkal lagata hai inki bhi plastic surgery hoti hai' and, of course, watching Saas Bhi Kabhi Kanya Thi.
This is, however, a sore attempt to ape Aziz Mirza's Nukkad or Raju Ban Gaya Gentleman characters albeit in a plush environ. The music, too, is not worth a mention.
However, if you think you are too disturbed or have lost a great fortune because of the current goings-on in the global financial market and have nothing else to do on a Saturday or Sunday -- the stock market remains closed on weekends -- then perhaps you can think of watching this forgettable movie.
Rediff Rating: