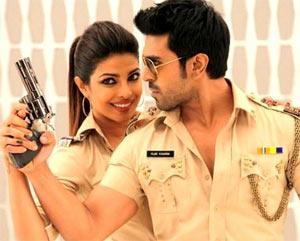 Raja Sen feels Apoorva Lakhia's Zanjeer is an unwarranted, atrocious remake.

Zanjeer was never a particularly great film. Sure, it had Amitabh Bachchan at his most primal, all flammable eyes and sincerely-furious baritone.

And it had Pran, who brought dignity and warmth to the proceedings. It had dialogue that seared the ear, forged hot by master blacksmiths Salim-Javed. And, like all Prakash Mehra films, the music was sensational. These are what makes it a film we can watch over and over and over, with considerable awe.

The new Zanjeer, directed by Apoorva Lakhia, has none of these things. Least of all the hero.

Ram Charan makes his Hindi film debut with this Bachchan remake, and my heart goes out to his fans who will have to sit through this tediously trashy film.

To paraphrase an unforgettable Indian movie character who shares a name with this new hero: Teja tum ho, marks idhar hain -- alas, it isn't anywhere close to a passing grade, son. You shouldn't have bloody tried.

The writing is bafflingly bad. "Investigations start karo," says the hero, a second before cops start whacking everyone in sight. At some point a character launches into a bizarre tirade against the Discovery Channel, which is apparently the channel of choice for the car-thieves demographic. A bawdy joke clearly written in English about one's, um, "member" is translated sloppily into "mere mehmaan", and is soon followed up by an offensively bad fellatio joke.

And yet all this excruciating slop is preferable to when they use the original lines.

Because they go right ahead and do their take on that most iconic of scenes, the one where Amitabh Bachchan kicks the chair out from under Pran and -- words scorching, eyes blazing -- ordering him to stay standing, informs him what a police station is not.

Making Ram Charan play out this scene with Sanjay Dutt as Sher Khan is a brazenly stupid move, as if the makers of this enterprise lost all interest and decided to flaunt their utter incompetence with fanfare.

Dutt ambles toward a chair, and Ram -- who stares at it before kicking it -- does so with a perfunctory scowl, the kind reserved for hanging up the phone after a wrong number. The chair itself is an office chair with wheels, so instead of flying violently across the station, this too perambulates blithely out of the screen. It's all casually catastrophic.


The words "Sanjay Dutt as Sher Khan" might have struck fear into some of your hearts, and I'm here to reassure you that the result is exactly as woebegone as
it sounds. Dutt sleepwalks through Pran's iconic role, looking demented during the
Yaari hai imaan
dance and lazy the rest of the time, even during fight scenes.
At one point he beats away assailants like they were errant pinatas, and at another -- during his big, crucial fight scene with Ram Charan -- he and his rival look too physically drained to square off against each other, like Street Fighter ran out of batteries.
A lame fight is apparently what passes for male bonding in the Lakhia universe, and a few scenes later both of them are playing car-racing games on a Playstation. Dutt, if only to provide us with a tragic metaphor, continues to grapple violently with his controller, mashing the buttons even though his car has already crashed and burned.
Whenever Dutt appears on screen, the background score switches to that of an operatic crescendo, like a rejected cut of something that'd play behind an Old Spice commercial. Background score man Amar "BringYourEarplugs" Mohile has a blast in this film, having made three or four music cues -- others include an
Inception
-y blare, and a
Mission Impossible
riff -- and clicking through them with high-volume recklessness, without care or nuance.
It's the stuff of particularly loud nightmares, this.
But even the ear-pillaging Mohile shuts up for the superloud heroine. The only positive from Priyanka Chopra's performance in this film is that she hasn't dragged in Pitbull.
She plays a hyper-talkative bimbette -- in her words, a "simple NRI
ladki
" -- who talks nineteen to the dozen but, forget about matching up to Jaya Bachchan from the original, she serves only to show us how tough it must have been for Kareena Kapoor to pull off Poo.
Chopra's character, Mala, is a moron who mistakes Stockholm Syndrome for
pyaar
. I didn't think it was possible to bring smugness into a giggle, but Chopra -- made of plastic, so fantastic -- looks to be giggling at the fact that she can giggle.
And then there's Ram Charan, a cop so tough he wears only two inscrutable expressions. He struts around trying to look hardcore, but clearly there is a reason why it takes someone like Salman Khan to make a stupid actioner work.
This new boy has zero screen presence, possibly worsened by the Hindi dubbing, and taking on one of Bachchan's Vijays is particularly suicidal. When the film mercifully ends, some remixed song has the gall to play Bachchan's voice saying that "
yeh
police station
hai
" line, which seems particularly cruel to young, unimpressive Ram.
That voice just puts into perspective how simian this new hero has appeared in this unwarranted, atrocious remake -- and we shouldn't monkey around with Amitabh.
Rediff Rating: ZERO stars