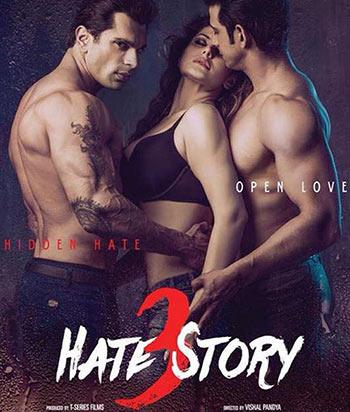 Hate Story 3 is *not* an erotic thriller, warns Prasanna D Zore.
Vishal Pandya's Hate Story 3, starring Sharman Joshi, Zarine Khan, Karan Singh Grover and Daisy Shah, fails miserably to thrill. And they're calling it an 'erotic thriller'!

'Game shuru ho chukka hai' mumbles a middle-aged confidante on the phone 15 minutes into the film, trying to raise our adrenalin levels. The person at the other end of the line is kept a mystery, to add to the thrill.

A gruelling 131 minutes later, you experience neither the rush of adrenalin nor the thrill, forget about eroticism. Not even in a single frame.
Hate Story 3 is a revenge story, revolving around an inane plot that has the hero and the anti-hero (Sharman Joshi and Karan Singh Grover switch these positions so quickly that when you blink, you will probably miss who is who) baying for each other's blood through corporate espionage, sexual charades, sabotage and murders.

If using the f*** word repeatedly, smooching repeatedly, exposing a lot of skin (both female and male), and dishing out two steamy songs make an erotic thriller, then writer Vikram Bhatt and producer Bhushan Kumar need to do some serious thinking.
Sharman Joshi, as a businessman under siege, using deceit to turn tables on his nemesis, and Zarine Khan as his equally scheming wife, look out jaded and out of the place.

Karan Singh Grover as the anti-hero-turned-hero is more interested in showing his biceps and trying to look cute with his gelled-hair than proving his acting skills.

Daisy Shah is miserable with her oomph-raising histrionics.
Vikram Bhatt's story keeps extending itself, not knowing when to climax.

Hate Story 3 is not the film that you hate when it ends; you hate yourself for venturing out to watch such a film.
Rediff Rating: