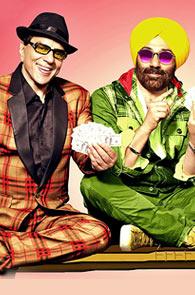 Yamla Pagla Deewana 2 is unimaginative and tedious to watch, writes Sukanya Verma.


Calling Yamla Pagla Deewana 2 a joke would amount to a compliment. And I am in no mood to extend such courtesy.

The purported comedy with a little less than half a dozen Deols on board -- Dharmendra, sons Sunny and Bobby, daughter-in-law Lynda (it's her story) and grandson Karan (as assistant director) is a 155-minute long giant bore.

It's not like the first one in the series was paradigmatic of Deol togetherness but at least it had *some* storyline and camaraderie. Also, the humour, which mocks their individual images or takes light-hearted digs at the Santa-Banta/'Canada' milieu provided the Sameer Karnik version genuine hilarity.

But the sequel, directed by Sangeeth Sivan, is unimaginably insipid and tedious. And no orangutan, dragon, unicorn or dinosaur can rescue a mess like this.

There are, I counted, three witty (read mildly funny) lines in all of YPD2. And there's a good chance, you've heard all three (featuring Dharmendra, of course) in the promo.
What you get instead are a bunch of stale gags by wobbly caricatures even as you pointlessly wait for something droll to happen.


Meanwhile:
* Sunny Deol screams like a woofer speaker and 30-40 baddies in black suits take off like airborne Mary Poppins.

*He also takes on half-a-dozen Sumo wrestlers and juggles them about like bagels; it's all very nauseating, never-ending.

* Bobby Deol and Neha Sharma bond over Salman Khan's movies and giant cut-outs. (Psst, Neha: Prem naam hai mera is Prem Chopra's punch-line not Bhai's.)

* Bobby Deol, again, channels one of Johnny Depp's stylish beard and hat look to pass off as a pseudo artist who looks up Salvador Dali on Google.

* He calls himself Q so that the makers can squeeze in jokes like Qunique that nobody laughs at.

* Two orangutans, one's called Einstein, the other wears a pink tutu skirt (also jokes nobody laughs at), burn the grass floor to the beats of Sheila ki jawani.

* Annu Kapoor speaks in a fake British accent that makes Katrina Kaif's fake Hindi accent sound good.

* Kristina Akheeva speaks in a fake Hindi accent that also makes Katrina Kaif's fake Hindi accent sound good.

* Johnny Lever and Sucheta Khanna treat YPD2 like a Halloween costume party and show up every few minutes dressed up like super heroes, martial artists and movie characters.

* Anupam Kher addresses himself as Dude, looks like a bad cross between Jeff Bridges (in The Big Lebowski) and Lucius Malfoy and mouths inanities like, 'Mainland China phone karo, Bruce Lee ke pote Dead Lee ko.'

* Other than its amateurish logic and moronic action, the screen is devoid of any chemistry or vigour in its wit.

Dharmendra spends most of his time in the backyard, taking a swig of whiskey from his hipflask, twiddling his thumbs, looking bored in a movie that neither uses nor celebrates his whimsical comedian.

He deserves better than this claptrap. And if it's not too much to ask, so do we.

Rediff Rating: