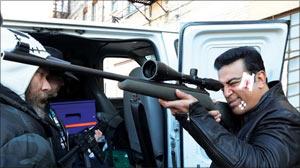 Vishwaroop is flawed and a big disappointment from Kamal Haasan, writes Prasanna D Zore.

The film keeps dragging on; the spy-hero languidly fights terrorists across Afghanistan and New York; a one-eyed terrorist spews Jihadi fire only to make you laugh.

That is Vishwaroop, written, directed and starred by one of the finest actors of our times, Kamal Haasan.
While this is no class on nuclear physics but before the review begins, a primer on Faraday shield is in place.
According to Wikipedia, a Faraday cage or Faraday shield is an enclosure formed by conducting material (like say a microwave in case of Vishwaroopam) or by a mesh of such material. Such an enclosure blocks external static and non-static electric fields (like say a call on a cellphone).
The spy-hero's dumb wife, who happens to have a doctorate in radioactive oncology, and who gets to show she is no showpiece in the film as the climax builds up, puts a microwave over a remote that the one-eyed terrorist tries to detonate from inside an aeroplane and bingo the 'dirty' nuclear bomb fails to detonate.

The equally dumb FBI agents in Vishwaroop are mighty impressed by this saviour!
Blame it on the terrorist's healthy appetite who cooks his meal in a pressure cooker that blows steam out even as he prepares to blow the dirty bomb that the spy-hero's wife notices the microwave.
For a spy thriller that takes bits and pieces from Hollywood hits like True Lies and Indian films like My Name is Khan, Vishwaroop fails to excite you with its dull pace and insipid action sequences.

The only time the film gives you an adrenaline rush is when a gay and happy dance teacher transmogrifies into a terrorist-killing machine and when NATO troops strike one-eyed terrorist's hideout in search of, hold your breath, Sheikh Osama bin Laden.

At times, the film tries to preach what is just and what is unjust, but fails miserably.
At other times it subtly tries to spread the universal message that terrorists and terrorism have no religion and succeeds.
One can also fault the film and the film-maker for brushing over technical details: Like an Afghan terrorist who looks like a small-time Indian gangster and the English-hating one-eyed terrorist yelling 'Go-Go' as the NATO choppers blow a hamlet to smithereens.
As for the cast of the film, Kamal Haasan looks his age now; a spy needs agility and suaveness which Haasan lacks as Vishwanathan; Rahul Bose as one-eyed terrorist-villain reminds one of a similar funny character played by a Chinese-looking villain in the film Farz, also a spy-thriller helmed by Jitendra. Only Jaideep Ahlawat looks and acts like a terrorist.
While it is unfortunate that Vishwaroop is entangled in a web of controversy, it is equally unfortunate to see Kamal Haasan make a film like Vishwaroop by pawning all assets he has.

One sincerely hopes that his fan base spread across the globe dole him out of financial ruin.
It is for this reason alone that Vishwaroop must be watched.
Mission accomplished in New York! Here I come, India!
If you survive this spy thriller be prepared for a sequel as the one-eyed terrorist and his trusted lieutenant turn their gaze towards India.

Rediff Rating:

(Just for Kamal Haasan)

Also Read: Review: Kamal Haasan is brilliant in Vishwaroopam
Review: Vishwaroopam is NO threat to Muslims