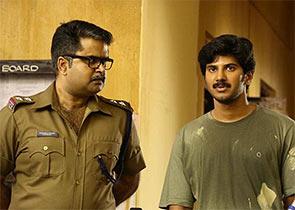 Anoop Menon and Joy Mathew along with Dulquar Salman and Namitha have given a decent performance in Vikramadityan, says Paresh C Palicha.
The new trend in the Malayalam film industry is to title a film by adding the names of the main characters. Director Lal Jose has named his new film Vikramadityan, after the two leading men, Vikraman (Unni Mukundan) and Adityan (Dulquer Salmaan).
The script by Dr Iqbal Kuttippuram has resurrected a subject that was popular five or six decades ago (it is not the bloodline but the upbringing that matters) and given it a contemporary slant. It is to his and the director's credit that they make a fairly enjoyable experience out of it.
Vikraman is the son of Vasudev Shenoy (Anoop Menon). He has aspired to follow in his father's footsteps from his childhood.
Adityan is the son of a trickster and thief, though his mother (Lena) is in the police force.
Their lives get entangled even before they are born and it requires an elaborate back story before we reach the heart of their tale.
Vasudev Shenoy and Adityan's mother liked each other but could not marry because of opposition from his mother. They however ended up living in the same neighbourhood.
This creates rivalry between their children, Vikraman and Adityan, who both aspire to the hand of Deepika (Namitha Pramod). They both also want to become policemen.
There is little depth in the story. In the climax, though, there is a positive twist in the plot.
Dulquar Salman and Namitha turn in good performances. Dulquer as the happy go lucky guy who turns to petty crime to make it big in life, and his eventual turnaround, wins our hearts.
Namitha, as the prize desired by the two guys, works well. Unni Mukundan's brawn is eye catching but he has little to show by way of acting talent maybe because he has been given little to say.
The efforts of Anoop Menon and Joy Mathew (he plays Deepika's father) to mouth Konkani dialogues sometimes makes them unintentionally funny. Lena's casting as the grown-up Adityan's mother feels unjustified but she carries it off convincingly, with minimal make-up.
Vikramadityan is entertaining but with little depth.