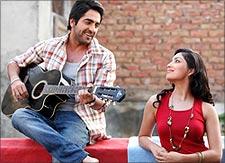 Vicky Donor is a pleasant surprise, writes Sukanya Verma.
Often, sex and everything it entails is a matter of prudence, provocation or parody. On a few occasions, however, it's treated as a perfectly healthy science with its share of hiccups and humour. Like Shoojit Sircar's latest film,
Vicky Donor
.
As its cheeky title suggests, the part rom, part com dwells on how there's no need to get all queasy over a little round thing with a tail just because it's outsourced without really dwelling too much on the sensitive nature of infertility.
Whether it's to make a contribution to mankind with one's reproductive cells or marrying outside one's community, the running theme of
Vicky Donor
is acceptance, embracing things without making too much fuss, because that's what real people do. And because this is conveyed without the aid of an insistent monologue, cheap humour or calculated soppiness, it makes John Abraham's maiden production quite a pleasant viewing.
Though never above imperfections,
Vicky Donor
draws the viewer in its 122 minutes lifetime, acquainting us to its good-naturedly quirky but genuine protagonists, played out by a pitch-perfect cast against Juhi Chaturvedi's delightful writing, to establish the true strength of the script's conviction and flow.
Sircar and Chaturvedi don't talk technical and so there's never a detailed account on the nitty-gritty of artificial insemination. Instead, you have Dr Chaddha (a uproarious Annu Kapoor until an emotional scene) assuring eager couples how the fertilization between a sperm and an egg is a matter of chance and needs to be given multiple shots. The man runs a fertility clinic and sperm bank in a dusty corner of Delhi's crammed neighbourhood, Dariyaganj.
One day he chances upon Vicky Arora (Ayushmann Khurana) caught in a dispute and for some feeble reason resolves he's the best candidate to resurrect the latter's slumping clinic. Vicky turns out to be the proverbial brawny Delhi lad with that high-speed twang, three-day old stubble, boorish manners and disarming-in-a-sort-of- Ranveer Singh-meets-Ranvir Shorey-way mouthing funny retorts like, 'Sintex ki tanki lagake store karoon?' and 'I am into handicrafts.'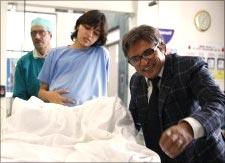 There

might come a time when this 'strain' of hero arrives to its saturation point but it's not with this film. Debutant Ayushmann's candid disposition and roguish face ensures his street smart drollery works like a breeze. His interactions with his loud but loving family are recognizably Punjabi without grating a single nerve. The camaraderie between Vicky's single mom Dolly (Dolly Ahluwalia) juggling between a kitschy beauty parlour and attending to Beeji (Kamlesh Gill), her gadget-savvy mother-in-law (she's disappointed on discovering her new iPhone is only 16GB as opposed to the superior 32GB) ranks among the film's highlights.

Especially when drowning their day-to-day dissatisfaction over a few rounds of whisky.

During one such sessions, Beeji remarks how she grudges insufficient dowry from Dolly's side, 'Bahu di attaché ki show hi alag hai. Jab tere Vicky ki bahu khaali attaché lekar aayegi tab tujhe pata chalega.'

These ladies are so good; they deserve a standalone film of their own. The flippancy of their conditioning, double standards or mindset is so amusing; it never ever becomes a point of judgement, which is part of Vicky Donor's overall appeal as well.

Gradually the chief theme of Vicky Donor and its loony awkwardness relegates itself to a sub-plot in order to concentrate on the romance between Vicky and a Bengali banker, Ashima Roy (Yami Gautam, a mesmerising beauty with an intense screen presence and dialogue delivery).

Some breezy interactions later, they decide to make it official. Again, it's Sircar deft handling that pitches the 'Punju versus Bong' cultural stereotypes against each other to generate some fine laugh-out-loud moments. Once again, a good word for the cast, Jayanta Das as the father, fiercely protective of his Bangla roots, lends his part amazing refinement and restraint.

Vicky Donor loses some of its sperm, er steam, in the second half when the sentimental, ethical reasoning creeps in, it feels a bit avoidable and protracted. Except by then you have begun to care too much for these characters and its unassuming vibe to create a ruckus.

Rediff Rating: