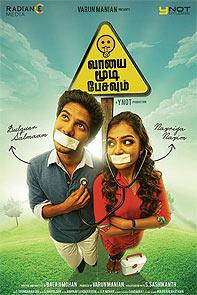 Vaayai Moodi Pesavum is a thought-provoking and thoroughly enjoyable film, says S Saraswathi.
Director Balaji Mohan made an impressive debut with Kadhalil Sodhappuvadhu Yeppadi in 2012 so expectations ran high for his latest film, a Tamil-Malayalam bilingual, Vaayai Moodi Pesavum.
Jointly produced by Radiance Media and YNot Studios, the film stars Dulquer Salman (son of noted Malayalam actor Mammootty), who makes his debut in Tamil cinema, and Nazriya Nazim. Madhoo, Pandiyarajan, Robo Shankar play supporting roles.
The film is set in an imaginary hill town, Panimalai, which has a sudden outbreak of a deadly virus, the H10N10, causing 'Dumb Flu', a fictitious infectious disease that renders a person totally speechless.
Arvind (Dulquer Salmaan) plays the role of a door-to-door salesman who sells an adhesive called Dr Fix It. He is quite successful, as besides the gift of the gab, he is an extremely warm hearted guy, who goes out of his way to help people.
Anjana (Nazriya Nazim), a doctor, however, is very shy and timid and prefers to keep away from people. She is bullied by her possessive boyfriend Vinod, who manipulates her and bends her to his every whim.
This is just one of the many plots in the film. We have Ravi (Robo Shankar), a total drunk, who is protesting against popular actor Boomesh (John Vijay), for portraying drunks in poor light in his latest film.
While Ravi threatens to sabotage the shoot and delay its release, the actor's fan club led by Ganesh (Ramesh Thilak) pledge their support to the actor.
There is also an orphanage and its little children, who are being forced out by their greedy landlord (Vinu Chakravarthy). The director also gives a glimpse of Anjana's relation with her stepmother Vidya (Madhoo).
Though we don't have a quintessential villain in the story, we have Health Minister Sundaralingam, (Pandiyarajan), who does cause a lot of trouble.
And last but not least there is a news anchor, director Balaji Mohan himself, whose witty and sarcastic way of reporting the epidemic keeps the audience in splits.
We are barely introduced to the characters in the film, when the town is attacked by this fatal virus, spreading rapidly. Studies prove that the disease is not spread by coughing or sneezing, but by talking. Soon, the disease causes its first death - a politician who refuses to shut his mouth.
The first half of the film ends with the government imposing a ban on any conversation, people are asked to shut up and talk less (Vaayai Moodi Pesavum).
Almost the entire second half has absolutely no dialogues and people communicate with each other in crazy sign languages and actions, which is hilarious.
All the actors have been chosen with care, and everyone fits in perfectly. Dulquer Salmaan has given an excellent performance and so has Nazriya.
The music by debutant, Sean Roldan, keeps up with the tempo of the film, especially the BGM, which plays a crucial role in the second half.
The film has been shot in the beautiful hills of Munnar and cinematographer Soundararajan has captured its beauty in every frame. Despite the number of characters, editor Abhinav Sunder Nayak has managed to give each one a decent screen space.
Through every plot in the film, the director has attempted to highlight some crucial element of society that has gone horribly wrong. We can easily identify with the characters and the situations.
There is criticism for the organisations that seem to target films for every little thing that does not appeal to them. There are relationships that are destroyed by never-ending and fruitless arguments and others that are shattered by not communicating enough.
A totally new concept coupled with the director's unique narrative style and a screenplay loaded with satire and comedy, makes Vaayai Moodi Pesavum, a thought-provoking and thoroughly enjoyable film. Definitely a must watch.
Rediff Rating: