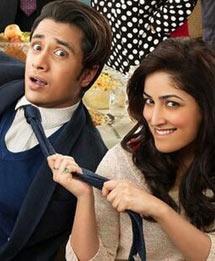 Total Siyappa is so insipid, it implores your mind to wander off every few minutes, writes Sukanya Verma.

Meeting the parents whether you are a boy or a girl is never easy.

One tends to expect the worse -- entertaining an ill prejudgment about that first encounter even before it has taken place. Quite like those pre-examination jitters of being asked questions from all the skipped chapters.

I was a mix of anxiety, hesitation and wariness when I first met my mom-in-law. As soon as the apartment door opened, she saw me, grabbed my quivering frame and gave a hearty Punjabi hug, which lasted a few minutes.

Even as I recovered from that zordaar jhappi and general disorientation, a bunch of precocious kids she was tutoring at home, sensing my antsiness, decided to sabotage my first impression by asking for assistance in framing a sentence with a *really* problematic word. God knows, I could have put Superman's heat vision to good use that day but, luckily, better sense and quick wit prevailed and I emerged triumphant from a potentially awkward situation.

Watching Total Siyapaa took me back to this amusing memory (which develops into a pretty madcap one as the evening progressed but that's for the memoirs) NOT because I could relate to it but since the film is so insipid, it implores your mind to wander off every few minutes.

I merely obliged.

Director E Niwas (Shool, Love Ke Liye Kuch Bhi Karega and a spate of insignificant films) helms this official remake of 2004 Spanish comedy, Seres queridos (Only Human), reworked for the Bollywood milieu by writer and producer Neeraj Pandey.

In trying to play safe, he filters the profanity, the politics and the pungency of an audacious, flying farce about a Jew-Palestine romantic union against a dysfunctional household into a dull Indo-Pak gag that seems too long and loop holed even at a running time of just 109 minutes.

Set in London, where Indians and Pakistanis getting together is not exactly unheard of, Aman (Ali Zafar) and Asha (Yami Gautam) decide to break the "bad news" to her Punjabi parents.
Only Aman Ki Asha, also the original title of the movie (cross my heart and hope to die), is dashed when everything – a loud mom-in-law (Kirron Kher), senile granddad (Vishwa Badola), seductive sister-in-law (Sara Khan), AWOL father-in-law (Anupam Kher in an extended cameo), high-strung Pakistan-bashing brother-in-law (Anuj Pandit) and a tiny tot somewhere in the middle playing "I am pregnant" – basically Sooraj Barjatya's ultimate nightmare – are thrown at him in the span of 7-8 hours.

Total Siyapaa plays the legendary hostility card between the two nations except a one-sided perspective weighs it down. During a bitter row over the same, it's an easy game-set-match for Asha after the quarrel hits the mention of Shahid Afridi. Not even remotely funny.

There's no jingoistic overtone, no mawkish sentimentality at work in Total Siyapaa. As alleviating that is, there's no bite either.

Unfounded reservations of Asha's family, especially mother, I could attribute to conditioning but instead of delving on this intriguing space of prejudice, the makers lazily use country of origin like a self-explanatory label lending it zero subtext or connotation.

What is offered in its place are a couple of lame cricket jokes, a literal demonstration of the neighbour metaphor and a completely muddled subplot featuring a racist British cop.

Still I found some of the initial moments, all of them starring Kirron Kher, quite droll. She's played all kinds of Punjabi mom but here she's the focus not the periphery.

That scepticism in her voice when she classifies her daughter's "hum dono mein kuch hai" as "problem" or the strict maalkin tone with which she orders Aman to switch off the gas and defrost the soup promptly turning all cute the very next instant – it all works purely because of her zest.

Among its only real praise, Total Siyapaa isn't a victim of botched-up performances. The acting by Yami, Ali and others is fine, they're not stealing scenes but they aren't responsible for its downfall either.

The problem lies elsewhere. It's the kind of film that expects you to find laughs in a man trying to thaw ice-cold soup with knives. It's the kind of coy courtship where a NRI couple kiss the other's lips by placing a hand in the middle. It's the kind of reductive remake that could work best as a harmless half-hour sitcom. It's the kind of experience that explains the need for phrases like 'meh.'

Establishing characters in stories, coursing through a span of few hours or a day, is not possible without sharp, insightful writing. And Total faux pas does not deliver any.

Rediff Rating: