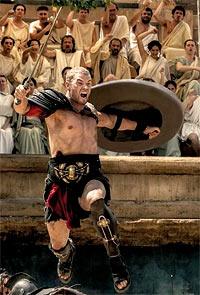 The Legend of Hercules is merely a mash up of 300, Gladiator, Troy and pretty much every other film made about ancient Greece, writes Paloma Sharma.

The Legend of Hercules is just like your average Nicholas Sparks movie: you take two shiny, blonde people (who can't act) from different worlds, who later fall for each other but can never be together since the romance is doomed from the start.

However – and here's the catch – it takes place in ancient Greece/Magicland.

Oh, and this one comes in 3D.

Hercules (Kellan Lutz) and Hebe (Gaia Weiss) are the said doomed lovers.Hebe is the princess of Crete. Hercules is the bastard son of Queen Alcmene and Zeus, king of the gods. The two are madly in love. Meanwhile, Iphicles, Hercules' older half brother, son of King Amphitryon (Scott Adkins), and heir to the throne of Greece has his eye on Hebe.

The king announces the engagement of his heir and Hebe. Hercules is banished. The predictable love/family/revenge drama follows.

Kellan Lutz should probably start looking for a new agent since this one moved him from the universe of sparkly vampires (Twilight) to the world of buff, sweaty dudes in short skirts.
In fact, the first thing that Lutz's new agent can do is
find him an acting coach, who Gaia Weiss can borrow later on.
On a less critical note, the best thing about this film is the variety it offers its audience. No, seriously. I mean, who knew they had so many different types of accents in ancient Greece? American, British, Russian - you name it.
The film is hilarious, especially when one of the main characters is either dying or procreating. The intimate scene between the Queen and Zeus is particularly funny and you'll have to see for yourself to know why.
The Legend of Hercules
could have salvaged itself by getting the action sequences right but instead it chose to go the slow-mo way every time someone swung at something – which happened a lot – and thus, what could have been a 60-minute film stretched to 99 long, painful minutes.
It would be best if you took your ear plugs along for this one. The background score is second to only Singham. I'm not sure if my ears are betraying me but I do believe I heard a bull grunting loudly in the background.
The Legend of Hercules is no legend. It is merely a mash up of
300, Gladiator, Troy
and pretty much every other film made about ancient Greece.
Drab and almost despicable, this film has nothing to offer. Honestly, it's not even worth talking about.
Rediff Rating: