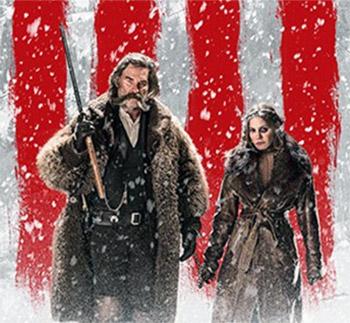 Quentin Tarantino's latest film is his most unpleasant, feels Raja Sen.
The Hateful Eight contains everything we expect from the auteur -- ultra violence and memorable characters and shocks and profanity and long stretches of dialogue -- and yet, while as indulgently Tarantinoey as it can be, this is a rough watch, a film meant to cause discomfort, to repel, even to disgust.
It is the director trying to make us squirm and succeeding, one way or another.
Some will be put off by the politics, some by the projectile vomiting, some by the scenes that run on far too long.
Yet, this is one of Tarantino's most deliberately put-together pictures, every decision meant to get under the viewer's skin and irritate, because -- while in cowboy hats and furs -- he is bringing up things we don't talk about.
There is, of course, a much simpler reason why this is a polarising film, why I've had to watch it three times before writing this review, and why this Tarantino film is so damned bothersome.
It is because it contains no heroes.
This is rarer than you might think.
We find ourselves frequently rooting for anti-heroes, or even charismatic, well-cut villains.
Even films soaked in amorality have principal protagonists we follow and support, protagonists we are meant to relate with or look up to.
The bitterly dramatic world of the Western often skims past moral ambiguity via casting: we champion Clint Eastwood in Unforgiven, for example, merely because he is Clint Eastwood.
But watching movies without a moral compass -- watching a bloody cowboy movie without any moral compass, for god's sake -- is thirsty work, intended to leave the audiences parched of easy answers.
Nobody is, thus, beyond reproach in The Hateful Eight.
Not the characters, not the politics, and certainly not the director himself, who has fashioned his thriller by building upon layers of constant subterfuge: the eight characters in the title never really add up to eight, the Haberdashery isn't really a haberdashery, there is a much heralded letter of dubious origin, there are hangmen who aren't hangmen (and men who become hangmen), we never learn how to pronounce the principal female character's name, and we're watching a film that resembles one of Agatha Christie's drawing room murder mystery while turning out to be no grand mystery at all.
Here's what goes on, above the surface: It is a few years after the American Civil War. A bounty hunter called John Ruth is handcuffed to a much-wanted murderess called Daisy Domergue.
Another bounty hunter, a retired Major, is an imposing black man with a bounty of corpses. They're both snowed in, along with an unsavoury bunch of people, in an inn during a tremendous blizzard.
There is suspicion everywhere: from John Ruth toward the inhabitants of the cabin, some of whom, he is certain, intend to free Daisy or steal his bounty; and toward the Major from the white men, several (if not all) of whom are blatantly racist.
This is all shot rather gorgeously on 65mm film by Robert Richardson, the cinematography almost as exquisite as it is indulgent.
Tarantino shuffles his characters around the closed space meticulously, like chess pieces, and Richardson's giant frames, foregrounding and backgrounding various awful people, do certainly give us a wonderful sense of where everybody stands -- except when somebody's missing.
The close-ups are superb, bringing you in tight enough to count Kurt Russell's magnificent whiskers or to spot a beautifully carved pistol hidden under a table, but it is in the few stray scenes that the film is outdoors that Richardson shows us how majestically lavish the possibilities are.
Despite the cleverness, the ultra-widescreen Panavision lenses (the same ones used to film Ben Hur, for the record) have almost always been put to better use -- even in Tarantino's favourite comedy It's A Mad, Mad, Mad, Mad World.
The Hateful Eight looks striking, without a doubt, but doesn't make the format count.
While the vintage lens might not do the trick, the vintage composer certainly does. Ennio Morricone, the legend long-worshipped by the director, comes aboard to make his first Western score in decades and, right from the first note of a mesmerising overture -- which is, naturally, made up of eight hateful notes -- it is clear the grand ol' gunslinger has no rustiness. It is Morricone's glorious score that shoulders Tarantino's narrative, lending it both urgency and (much needed) grace, and if even this hero-free film has a man worth celebrating, it is Ennio.
The performances are uniformly flamboyant and enjoyably showy, but, gradually, become a lot more affecting as the film runs on.
Russell's John Ruth is a Tarantino character for the ages, a tough man following a self-written code but a thundering bully and a woman-beater, and Russell is mighty fine when he stands tall but even finer when he looks utterly heartbroken.
Jennifer Jason-Leigh, as the woman he repeatedly assaults, creates a superbly sly character, smiling through her multiple bruises and black-eyes as if she has a secret. (As Tarantino literally tells us, she does.)
Bruce Dern is magnificent as a withering old Confederate General hunting for his son and holding on to his prejudices.
Samuel L Jackson, the closest thing this film has to a leading man, gets the meatiest part and is the most used to reciting Tarantino's words, and the combination is, rather predictably, dynamite.
Tim Roth, playing a foppish British gentleman, is the one underscoring the point of film and reminding everyone else -- or, indeed, laying down for us all -- the meaning of justice.
Embodying justice himself, in a manner of speaking, is Walton Goggins, in the film's most challenging part.
Claiming to be a soon to be sworn in Sherriff, Chris Mannix is a renegade redneck who hails proudly from a family of marauders -- a family that has gleefully hunted and killed black men -- and while a degenerate, he is an articulate one. It is a particularly ugly, unsavoury role, and the actor expertly makes him compelling without ever, ever rendering him charismatic. Remarkable.
Despite overreaching political ambition, which I shall explore at length in a spoiler-stuffed essay next week, this is far from a perfect film.
This is the first Tarantino film where I've ever felt the director needed to be reined in, but the absence of his longtime editor -- the late great Sally Menke -- can be felt now more than in Django Unchained, his first film without her.
Here far too many points are lingered on, too many scenes feel longer than they need be, and some precise slicing could have diced this film into something more even potent. I believe Inglorious Basterds has been Tarantino's creative and artistic peak over the last decade, and nothing in this film matches the finesse of that one. But then it isn't even trying.
As it stands, The Hateful Eight is an unflinching, brave film that never looks away. It doesn't look away from the racism dripping from its characters, it doesn't look away when they are bristling with alarming levels of misogyny, it doesn't look away when they're lying right through their grotesque teeth.
There are times when I almost wished it would look away, when the splatters got too messy and the violence bordered on sadism, but this is a film meant to confront instead of comfort.
This is a film aimed at making us look away because it won't.
Perhaps it's time we faced the hate.
Rediff Rating: