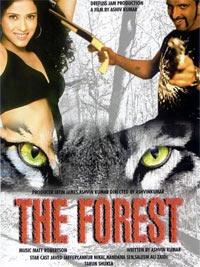 The Forest falls majorly on account of its characterisation, writes Shaikh Ayaz.
Man is the worst animal. He kills for pure pleasure, animals for survival. This is the hinted message of Ashvin Kumar's
The Forest
.
Then, there is a more emphatic message -- that of preservation of nature and wildlife, that human encroachment on forests could lead to a catastrophic future. The film begins with the arrival of an urban couple, Pritam (Ankur Vikal) and Radha (Nandana Sen) on their way to a jungle retreat.
They don't have a child but it's not voluntary. She wanted a child badly but he didn't and the fact that they couldn't serves as a major argument point throughout the film. As a narrator, Pritam informs us that they chose the forest as a getaway destination for its stillness, where time would move slowly and where they can give their relationship another shot but he never knew it would all end in tragedy.
They are greeted in the jungles by Abhishek (Jaaved Jaffrey) and his son Arjun. Abhishek is a cop but he never seems to be on duty. He is Radha's ex-lover and in an act of desperation, they try to rekindle their romance, leaving behind Pritam in the forest. The joke is clearly on the poor husband.
It is during these moments that the film
takes a beating. Interactions between the characters are shallow and simply too boring to bother. Pritam's vocabulary is only limited to 'bloody hell' and 'the bugger can drink.' Vikal who plays Pritam makes it even more painful for the viewers; his speech is a let-down. You don't need any more films to prove that Nandana Sen is a terrible actor, one with a serious absence of skills and range. The boy is the worst, hopelessly miscast.
On the contrary, Jaffrey brings some relief. He is an incredible actor but has never quite been given his due. It's not a great role for him either but he does what he can, negotiating his way with dignity in a film that falls majorly on account of its characterisation.
What really work are the thrill elements. Kumar has a flair for suspense and visuals. The predator-on-the-prowl scenes are filmed with patience and panache but they come too late, by the time the damage had been inflicted. However, what does more harm to
The Forest
is its idea of driving home the point of man's cruelty towards animal which runs opposite to its treatment of human relationships.
If only Kumar had established and probed more of the beastly side of man,
The Forest
could have been something. After all, isn't 'man is the worst animal' at the core of this movie?
Rediff Rating: