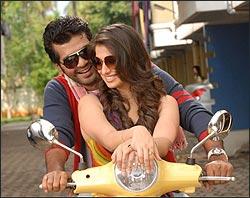 S Saraswati says Tamil film Onbadhula Guru is a collection of comic scenes put together to make the audience laugh, without putting much thought to the story.

P T Selvakumar makes his directorial debut with the multi-starrer Onbadhula Guru, a romantic comedy that was shot in just 90 days. The film has been cleared by the Censor Board with an 'A' certificate.

Produced by S Sivakumar and R Sivakumar, Onbadhula Guru has music by Krishnakumar and cinematography by Chellathurai. The film features Vinay Rai, Premji Amaren, and Lakshmi Rai in the lead roles along with Aravind Akash, Sathyan, Jagan, Mantra, Roopashree and Sona Heiden.

The film opens with an item number, Alayadhe Summa Summa, performed by Power Star Srinivasan of Kanna Laddu Thinna Aasaiya fame.

Onbadhule Guru is about a bunch of disgruntled married men, who want to go back to their bachelor days. All the characters have movie names -- Vinay Rai is Billa, Sathyan is Ranga, Aravind Akash is Kochadaiyaan, Chaams is Guru and the list goes on. And they also act like the characters from these films.

As everyone imitates someone else, it gets very confusing.
The supporting cast also plays popular characters like Velu Nayakar (Nayagan), Nilambari (Padaiyappa), Anniyan and Kanchana.

The first half of the movie revolves around the circumstances surrounding the unhappy marriages of Billa, Ranga and Kochadaiyaan, though they do not seem to make much sense. The three decide to relive their past, their fun-filled bachelor days. Guru who is soon to get married is also convinced of the pitfalls of marriage and decides to join the party.

The film then shifts to Bangalore where they meet another old friend Charles (Premji Amaren), who is also stuck in a similar situation. Sanjana (Lakshmi Rai), who plays the role of a photographer, is courted by everyone in the film.

The movie just seems to move from one comic scene to another without any thought to the storyline.

The entire film is interspersed with old hit Tamil songs; every situation has a background score of some popular Tamil number, which though fun in the beginning gets quite tiresome when it just goes on and on and on.

This may be his first directorial venture, but P T Selvakumar is not new to the world of cinema. He has worked as actor Vijay's PRO for many years and has previously assisted director K . Ravikumar.

Music by young composer Krishnakumar, fondly known as 'K,' does not make an impression.

Not much can be said about the acting skills of the actors as each one imitates others.

The entire film is like a collection of comic scenes put together to make the audience laugh without much thought to the storyline.

Rediff Rating: