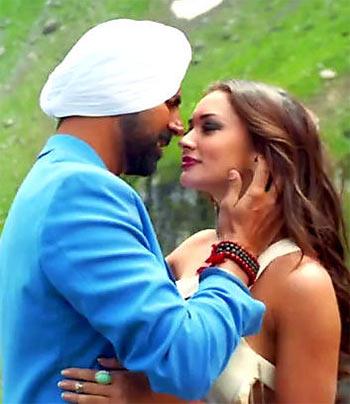 Singh is Bliing is far too moronic to be saved, says Raja Sen.
It's as if Akshay Kumar is daring us to like him.
The man has genuine acting chops, drips with screen presence, is significantly fitter than his contemporaries, and has the kind of reassuringly goofy grin that makes him appear likeable even in truly mediocre movies.
Why must he then subject us to such ghastly movies?

He's a gifted comic actor, but his current comedy template is so harebrained that, well, it would embarrass Adam Sandler.
This particular misadventure begins with Kumar as Raftaar Singh, the kind of lassi-chugging wastrel who is good at everything but has serious attention deficit order.

He can do everything except pay attention.

Because of this, his brutal father cruelly sentences him to a job in…. Goa? On a floating casino? What a tyrant. But then arrives an ass-kicking white girl who bashes up many a buffoon and steals Raftaar's beturbanned heart.
That setup could still potentially make for a few laughs, but then there's a missing mother, a hat-twirling villain and an old man who looks like Ajit -- not to mention an interpreter who sleepwalks and hits boys in the groin with coconuts.

It's all happening, and it's all horrid.
Why, Mr Kumar, why?

Spend maybe a tenth of your pagri budget on a decent screenplay?

Is it that you -- and director Prabhudeva -- are completely opposed to the idea of a watchable film?

Must a comedy be this… pathetic? Considering that the director gave himself a cameo where he pees on people (I wish I were kidding), the question seems tragically rhetorical.
The girl in the film is Amy Jackson -- a girl so generic she might as well be called Any Jackson -- but thankfully we don't have to suffer the sound of her Hindi.

She doesn't understand the language and mercifully only speaks English -- when she isn't talking with her fists and feet, that is.

Her character is a fierce fighter who, refreshingly, saves the leading man's skin a fair few times in the film.

Which is why it's all the more disappointing when she abruptly turns into a damsel-in-distress at the climax.
Kay Kay Menon, meanwhile, hams it up as the baddie and flips around a hat -- an act which reminded me of his hat-flinging in Bombay Velvet -- and constantly calls himself "too good", in a clumsy echo, perhaps, of Gulshan Grover labelling himself "bad man" all those years ago in Ram Lakhan.

Everything in this film is a clumsy echo, in fact, and even the product placements seem too underbudget to be real: Rasna, Rapidex, BestDeal? Please tell me this was all in jest.
Lara Dutta, playing the sleep-challenged interpreter, tries hard to full-bloodedly embrace the lunacy, and there is a moment where she offers a glimmer of hope as the Sardar takes his girl into a song sequence and they take Dutta along to interpret his thoughts to her.

If only all of it were even slightly tolerably written -- as it stands, Dutta comes off looking like an impressively sportsmanlike buffoon.
Despite all this, Kumar, bless his soul, still makes us laugh.

From the way he nonchalantly tosses car keys into a swimming pool to the way he pillow-fights with his mother -- and frequently crouches down in front of his father, as if giving a pitch report -- Kumar shows off the spontaneity that makes him hard to resist.

Unlike Singh Is Kinng however, Singh Is Bliing is far too moronic to be saved.
In a stupid early scene featuring a dog dressed as a lion -- with the scenes distractingly labelled "Shot in a zoo" and "Shot in South Africa" as if locations were cigarettes -- I thought I spotted one of the old Flop Show actors on stage.

I might be mistaken, but not as much as this film. Those spoofy "misdirected by" credits would suit Prabhudeva just fine.
Rediff Rating:

ALSO READ: Review: Akshay Kumar dazzles, Singh is Bliing does not!