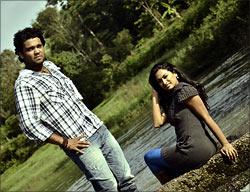 'Simple Agi Ondh Love Story is a must-see film for all those in love, for the freshness in narration and dialogues' says Srikanth Srinivasa

New-age Kannada cinema is here with a bang. Director Sunil (Suni as he likes to be called) has intelligently used social networking sites to promote his film, and it has paid off with much hype generated in the cyber world in the run-up to the film's release.

This Internet promotion for the film has resulted in an unexpected and huge opening for the film. It's a wake-up call for the Kannada film industry which is not novel in its thinking when it comes to promoting films or making films keeping young audiences in mind.

College-going crowds and young men who were not turning out to watch Kannada films have unusually made it to the theatres although the movie does not have a single star in it except for Srinagara Kitty's brief guest appearance.

Director Suni has made a film for young lovers and to-be married couples cutting across all classes. He has intelligently chosen different seasons – monsoon, winter and summer-- to depict love in the life of the two lovers.

Kushal (Rakshit Shetty) is sent by his radio jockey sister Rachana to Kodagu to meet her boyfriend's sister in the hope that the two will take a liking to each other, leading to marriage, and thus paving the
way for her own marriage.
Kushal meets a bubbly girl (Shwetha Srivatsav) in the house he is sent to, but the rest of the family is out of town. The two share their past romantic liaisons before falling in love with each other. It turns out, though, that the girl is not who she pretends to be. The film takes a curious turn from here.
Is the girl who calls herself Khushi cheating on Kushal and does she have some evil intent in mind? Watch the movie to find out, as it has an interesting climax.
Director Suni has made the story interesting and has also saved on actors by using the same actors to enact their first love stories. The film has a number of funny one-liners and witty dialogues. Cinematographer Manohar Joshi is brilliant, especially in the song sequences.
Debuntant Bharath's music is good and the songs are pleasant to hear.
Rakshit Shetty is superb as the innocent yet urbane lover. He has improved tremendously from his earlier films, thanks may be to the direction of Suni.
Shwetha shines with an effortless and spontaneous performance. RJ Rachana is lively and has the potential to make cameo appearances as an alternative career option to her existing job.
Simple Agi Ondh Love Story
is a must-see film for all those in love, for the freshness in narration and dialogues.
Go watch it with your loved ones!
Rediff Rating: